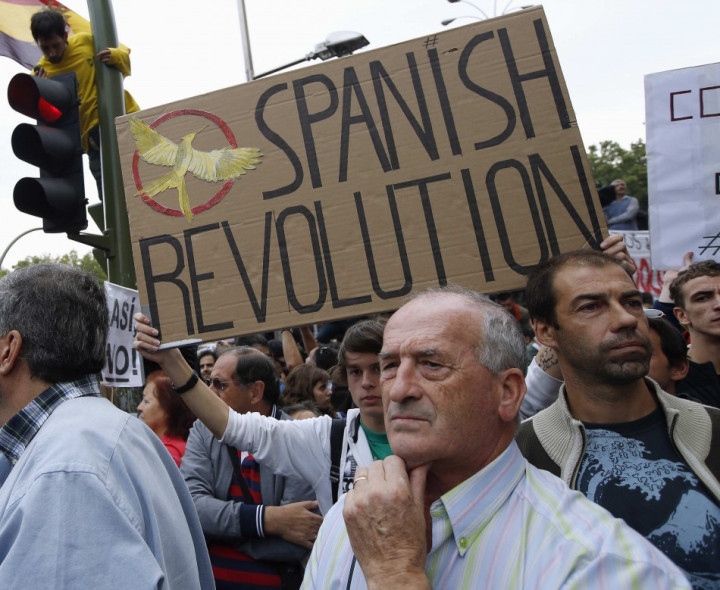 A day after police charged protesters in Spain's capital, hacktivist group Anonymous has expressed solidarity and accused the Spanish government of failing to safeguard the interests of ordinary people.
"They [protesters] are calling for the resignation of a government that like so many in our world today has failed to serve the needs of its people. We encourage our comrades in Spain to remain steadfast until their demands are met, and we promise to do all we can to assist them," said the group.
Hacktivists also condemned police for using rubber bullets and baton rounds against the protesters who were demonstrating against the austerity measures. About 6,000 protesters under the "Occupy Congress" banner converged on the parliament building.
Official figures put the number of injuries at 64. Thirty-eight people were arrested.
The group took down the police website and has threatened to black out the Spanish parliament website and also vowed to send "black fax and email bombs".
The mass protests in the capital were triggered by fresh austerity measures to be introduced by the government.
Thousands of "Occupy Congress" demonstrators rallied against the fresh proposal and marched on parliament.
As angry protesters tried to bring down the barriers blocking the way to parliament, the police stepped in and clashes erupted.
"I saw riot police with their batons charging at protesters trying to split up the crowd," Mark Smith, a local resident, told the BBC.
About 1,000 riot control police were pressed into service to contain protests at the Plaza de Neptuno square in central Madrid.
Barcelona and Seville also witnessed minor protests. Prime minister Mariano Rajoy is struggling to bring down the huge unemployment rate of 25 percent and drag Spain out of double-dip recession.