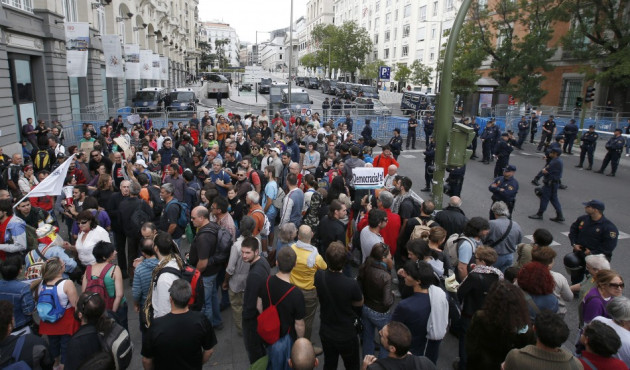 Police in Madrid have sealed off the nation's parliament buildings ahead of a planned protest by thousands of Spaniards over the multi-billion euro spending cuts and austerity measures proposed by Prime Minister Mariano Rajoy.
The demonstrations, which are being labelled "Occupy Congress" by its organizers, come just days before Rajoy's Economy Minister, Luis de Guindos, will reveal the government's budget statement for 2013 and publish his government-led audit of the country's staggering financial sector. Spain's federal government is also expected to activate an €18bn domestic rescue fund in the coming days as many of its semi-autonomous regions faces crippling interest rates on billions of euros of debt refinancing between now and the end of the year.
"The triple announcement this week should set the stage to meet the conditionality for financial assistance," wrote Societe Generale economist Michala Marcussen in a research note published Monday. "But Spain may still opt to wait before making an official request."
Rajoy's Popular Party government, elected less than a year ago, has faced intense opposition to its deficit reduction plans as it attempts to push through some of the steepest austerity measures in modern Spanish history, avoid a formal financial bailout from its European Union partners and mute growing calls for political independence in two of its most populous regions.
In fact, nearly two-thirds of his €35bn in cuts will borne by the seventeen regions as he works to reduce Spain's budget deficit from 8.9 percent last year to an EU mandated target of a 6.3 percent this year and 4.5 percent next year. His programme of cuts and savings will amount to around 15 percent (€50bn) of Spanish GDP and include a sharp increase in VAT and reductions in civil service wages and jobless benefits. Spain's official unemployment rate sits at a record high 24.4 percent.
The president of Spain's wealthiest and most influential region, Artur Mas of Cataloina, told Rajoy in a meeting earlier this month that Spain should consider exiting the single currency, a statement designed to apply pressure on Madrid as he seeks greater economic and political autonomy, a theme supported by more than 1.5 million Catalans who took to the streets that same week to call for independence.
Local elections the Basque Country and Galicia on 21 October could well ignite the same passions and complicate further Rajoy's austerity strategy as he faces calls to reform sacrosanct federal pensions, a move many analysts could topple his government, which is already suffering in polls after several election pledges on tax and spending were reversed earlier this year.
This week's bank audit is likely to confirm earlier estimates that the country's financial institutions will need around €62bn in new capital from the recently arranged EU rescue fund of around €100bn. Private auditors Oliver Wyman and Roland Berger are expected to publish the stress test results Thursday.
Moody's Investors Service will also complete its review of Spain's Baa3 debt rating, which sits just one notch above "junk" status, sometime this week. A cut below that threshold could precipitate a sharp rise in bond yields, as many institutional investors could be forced to sell securities after losing the investment-grade rating. Standard & Poor's said earlier this week it does not expect to cut the investment grade rating it holds for Spain in the near-term.
Fitch Ratings slashed its rating on Spain to BBB, the cusp of investment grade, in June and warned it may lower the assessment further given "the risks associated with a further worsening of the Eurozone crisis, notably contagion from the ongoing Greek crisis.
All this comes as Rajoy faces increasing pressure to formally request financial support from the EU, a precondition for the European Central Bank to activate its programme of unlimited bond purchases that will help lower Spain's borrowing costs and maintain access to the financial markets.
ECB President Mario Draghi's first reference to the programme in late July boosted Spanish stocks by around 25 percent and reduced its benchmark 10 year bond yields by at least 2.5 percent.
However, Rajoy's indecision in applying for the formal bailout and the myriad challenges his government faces - not to mention the deepening recession that's the worst on record - has given investors cause for concern.
An auction of short-term Spanish bills, known as Letras, raised around €4bn for the Treasury Tuesday, but were sold at a higher yield, and attracted fewer buyers, than at a similar sale in August, suggesting the so-called Draghi Effect has begun to fade.
That's troubling news for the Treasury which, despite having wrapped up 80 percent of its funding for the year, still needs to refinance around €30bn in maturing debt by the end of October.