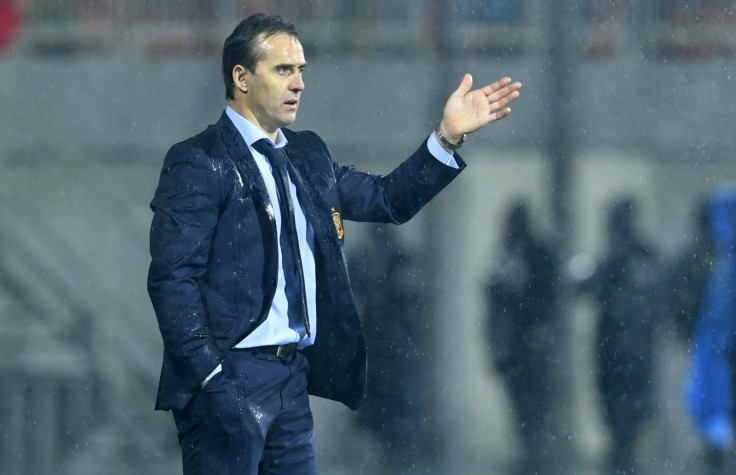 Julen Lopetegui has denied claims Chelsea lobbied for the withdrawal of Diego Costa from Spain's international squad, over fears his injury troubles could be worsened. La Roja's manager said it was his own decision to withdraw the Brazil-born forward from the squad, after his groin recovery failed to evolve as originally expected.
Costa played the full 90 minutes during Chelsea's victory over Everton last weekend, scoring his ninth goal in 11 games to further cement his spot as the Premier League top scorer.
But reports in Spain on Tuesday revealed that Costa arrived to the national camp with groin bruise from that game, along with a medical report from Chelsea in which Blues doctors warned Lopetegui about the tiredness of the striker.
Chelsea have a history of disputes with the Spanish national side over Costa's fitness, with former Stamford Bridge boss Jose Mourinho repeatedly complaining about the striker's use at international level.
There has now been suggestions in Spain that new Chelsea boss Antonio Conte is also unhappy with Costa's featuring for Spain, after the striker failed to train on Tuesday and Wednesday.
But Lopetegui has denied Chelsea interfered in his decision to send the Spaniard back to London, after the striker pulled out from the national team squad on Thursday to be replaced by former Liverpool forward Iago Aspas.
"No, no, not at all, the clubs do not pressure, we make the decision. We always give priority to our conversation with the player. The clubs, in this case Chelsea, inform us of a situation but then logically we are the ones who monitor the evolution," Lopetegui stated during an interview with Cadena Ser.
"After the game [with Everton] they [Chelsea doctors] told us about the problem. At first it seemed a minor issue but there are times that muscular injuries don't have a good evolution, as has been the case."
Lopetegui said that the Spanish national team set Thursday as a deadline to check whether Costa would be able to play the World Cup qualifier with Macedonia on Saturday (12 November). Costa made an attempt to prove himself in the Thursday's training session, but the striker's feelings were not positive.
"He [Costa] was well, he even finished the game [against Everton] well despite making big efforts. But at the end of the game he had a small problem. He had no pain at the beginning because he was warm but then he started to feel the pain. And he has not been able to recover. We decided that Thursday was the key day to see whether he was going to be ready for Saturday. We did a test [in the training session] and that did not go well. He couldn't train at the same rhythm as his teammates so between everybody we decided that it was best not to keep pushing," Lopetegui explained.
"We hoped that the Wednesday training would have been different but we have to accept that it wasn't and look for a solution. We can't lament about the injuries despite there being a few absentees in this call-up [including Andres Iniesta, Gerard Pique, Sergio Ramos and Jordi Alba]. Every time a door is closed another one opens. It's an opportunity for other players that we trust and who will surely do phenomenally."
Chelsea next Premier League game is at Middlesbrough on 20 November.