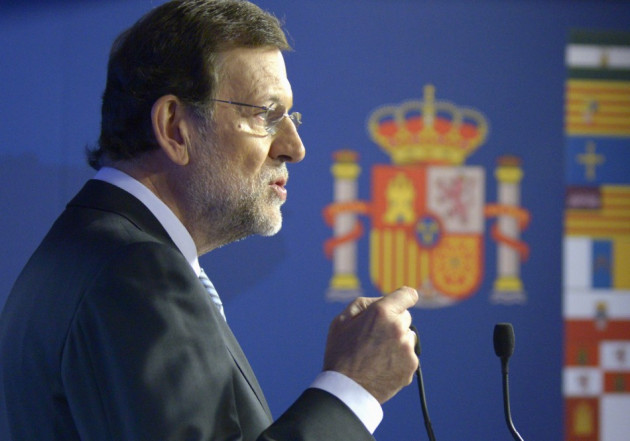 Spain's embattled Prime Minister, Mariano Rajoy, assured journalists he had taken no decisions on a formal bailout for his recession-hit nation but regional elections and potential delays in forming a long-term bank rescue plan could push him to seek aid from his European partners sooner than he would prefer.
Three separate elections loom around Spain's financially-struggling regions in the next month, including a critical vote in Catalonia that could see the country's wealthiest and most populous region vote to seek independence from Madrid. Meanwhile, European officials are preparing key estimates of Spain's deficit and growth forecasts as they continue to debate the details of how and when the region's permanent rescue fund will be used to support Spain's deteriorating banks.
"I don't see any European Union leader telling me I should use the mechanism the ECB has put in place," Rajoy told reporters in Brussels at the close of this month's Leaders' summit, referring to the central's banks proposed plan to buy unlimited amounts of Spanish government bonds provided it seeks formal financial assistance from the European Union and the International Monetary Fund.
The Bank's pledge for support has certainly given Rajoy time to weigh his options.
Spain's benchmark 10 year bond yields have fallen more than 2.5 percent since late July ECB President Mario Draghi first mentioned the programme, now known as Outright Monetary Transactions, or OMTs, during an investor conference in London. A better-than-expected figure for bank capital needs published by a private audit he commissioned last spring and a reprieve from Moody's Investors Service on its edge-of-junk debt rating have also eased the near-term market pressures as he attempts to implement a €60bn austerity programme and negotiate budget and spending limits with his country's 17 semi-autonomous regions.
With more than €130bn in government borrowing to execute next year, Rajoy can ill-afford to waste the current market stability. But even as the market pressures have abated, Spain's economic fundamentals continue to weaken.
The Bank of Spain reported earlier this week that bad loans on the nation's bank balance sheets ballooned to a record 10.5 percent of total portfolios. Unemployment sits at an all-time high of 24.1 percent and the current recession, which began in first quarter of this year, will likely last until at least 2014. In fact, GDP growth hasn't advanced more than 0.8 percent since the third quarter of 2008.
The European Commission will publish growth and deficit estimates for the Eurozone on 7 November and many anticipate Spain's ambitious deficits targets are unlikely to be met either this year or next. If that turns out to be the case, 2013 borrowing estimates will need to rise. UBS strategist Justin King says a 1 percent increase in next year's deficit aim will add around €10bn to its overall borrowing tally.
That's a troublesome increase, given the questions that still remain over how - and when - Spain's banks will be recapitalised by the EU's permanent bailout fund, the European Stability Mechanism (ESM).
European rules would allow the ESM to inject billions into the banks but keep the debt off of Spain's overall balance sheet. However, Germany has argued that this direct capital injection can only occur if there's a harmonized regulator for the whole of the EU's 6,000 financial institutions. EU leaders came one step closer to solving that riddle in Brussels this week, but several hurdles remain and no one seems exactly sure when the ESM injections will begin. In the meantime, Spain could be left with no choice but supply its own debt capital to stabilize its struggling banks.
Consultants Oliver Wyman and Roland Berger said Spain's banks need around €59.3bn for it to survive the expected economic downturn. Around €40bn of that is expected to come from the rescue package previously arranged with Spain's EU partners in June while the remainder will be raised in private offerings by the banks themselves.
A further challenge looms in the form of regional elections this weekend in Galicia and the Basque Country as well as a crucial poll in Catalonia on 25 November.
Experts are predicting few surprises in this Sunday's vote in Galicia, Rajoy's home region, where his Popular Party is likely to win a majority of seats over an unpopular Socialist rival, Pachi Vazquez.
The Basque country, however, could prove more troublesome, with some polls suggesting separatists from both the right and left of the political spectrum will likely win as many as two thirds of the seats in the Vitoria-Gasteiz parliament.
The centre-right PNV party, with a long history of Basque rule, is unlikely to pursue a separatist mandate but it could be pushed by a rise in support for the upstart EH Bildu party, an adjunct of the once-violent independence movement ETA that now openly pursues a sovereign Basque nation.
And even sterner test will come in November, when independence hungry Catalans go to the polls with the aim of delivering President Artur Mas a mandate for secession from Madrid.
Catalonia, which accounts for around a fifth of Spanish GDP, is also the most indebted of Spain's seventeen semi-autonomous regions. Because the bulk of its spending - more than 80 percent - is focused on education and healthcare, Mas has argued that austerity measures dictated by Rajoy are untenable.
Others have suggested Madrid's insistence that the regions shoulder nearly 70 percent of his proposed €60bn in spending cuts and austerity saving, despite the fact that they only comprise around 37 percent of Spain's deficit, has created a political context around Spain's reforms that endangers both its economic prospects and the future of its national unity.
"It is hard to avoid the conclusion that the centre-right government of Rajoy aims to use the present financial crisis to not only shrink the state but to recentralise it ... threatening to take over (regional) governments unless they adhere to unfeasibly tight budget controls," wrote Societe Generale economist James Nixon.
The collective problems could, in the aggregate, close the narrow market access window Spain now enjoys, other analysts have argued, putting pressure on its investment grade credit rating.
"Should any such factors lead the rating agency to conclude that the Spanish government had either lost, or was very likely to lose, access to private markets, then Moody's would most likely implement a downgrade, potentially of multiple notches," the agency wrote on 16 October. Standard & Poor's also warned that political support for austerity within Spain was crucial for it to hold onto its BBB- rating.
Given the depth of the issues, King of UBS isn't convinced that window can remain open simply on the strength of either and implied or an explicit programme of support from the ECB or the ESM.
"Spain will lose market access at some point - most likely in the second half of 2013," King wrote a widely-read research piece published Thursday. "There is not a standard definition of the phrase 'lose market access' in this context. We see it as the point at which all concerned realise that issuance cannot continue without continuing to push yields deeper into territory in which a government is theoretically insolvent."