Spain's Recession Deepens as Bailout Talk Intensifies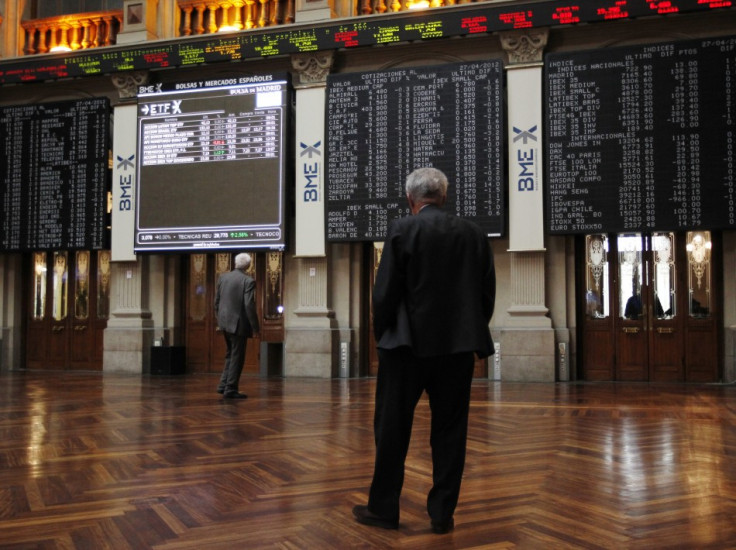 Spain's recession deepened in the three months ending in June and its rate of inflation quickened as the stark reality of it economic weakness once again reminds investors of the difficultly it faces in meeting EU and IMF deficit targets.
Europe's fourth-largest economy contracted by 0.4 percent in the second quarter, according to figures published by the National Statistics Institute (INE), extending the nation's second recession in three years. On an annual basis, the economy is a full 1 percent smaller than it was this time last year. Inflation also accelerated in July to an annual rate of 2.2 percent, significantly faster than expected and well ahead of June's 1.8 percent reading.
The grim figures come amid speculation - resolutely denied by Spanish officials - that Prime Minister Mariano Rajoy is hammering out details of a potential €300bn bailout with the European Union and the International Monetary Fund as its borrowing costs surge and the financial burdens of its banks and regional governments swell.
Reuters has reported that Economy Minister Luis de Guindos sounded-out his opposite number in Germany, Wolfgang Schaeuble, on terms and conditions of a full-scale bailout during a meeting last Tuesday in Berlin. However, Reuters says Schaeuble was unwilling to commit to any aid package until Germany's Constitutional Court rules on the legality of taxpayer funding for the region's permanent bailout fund, the European Stability Mechanism.
Late last week the IMF wrapped up its annual visit to Spain with a statement of cautious support for the €65bn in spending cuts and austerity measures announced by Rajoy earlier this month and the country's overall efforts to meet broader targets on deficit reduction and structural reforms. Including the €100bn in loans recently negotiated with the EU to support the Spanish banking system, the IMF sees Spain's debt-to-GDP peaking at around 97 percent in 2015 before beginning to decline closer to longer-term averages.
The planned austerity measures, however, will take their toll on growth: the IMF expects GDP to contract by at least 1.7 percent this year and a further 1.2 percent next year before showing the early signs of recovery in 2014.
Whether the government has the patience for this kind of recovery - especially domestically - may largely depend on its ability to lower the country's record unemployment rate of 24.6 percent. More than 5.7m people are currently out of work - including half of working population under the age of 26. In fact, Spain accounts for fully one third of all Eurozone unemployment.
Still, the IMF considers "securing market financing for both public and private sectors at affordable rates" to be Spain's most-pressure priority. The €100bn bank bailout is clearly a significant step towards that with loans stretching over 12.5 years at an average cost of around 3 percent, but current market yields for its benchmark 10-year bonds - 6.7 percent - have been beyond any level of sustainability for many months now and have only recently receded from a record-high 7.6 percent because of speculation that the European Central Bank will re-start its Securities Markets Programme with large-scale purchases of Spanish and Italian government bonds.
© Copyright IBTimes 2023. All rights reserved.