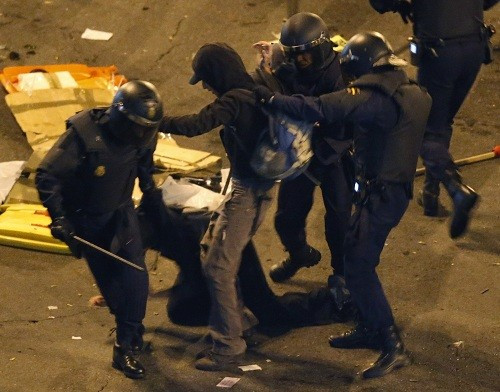 A key delegate of the Spanish government has defended "absolutely" the actions of the police during clashes with anti-austerity protestors in Madrid which left 64 people injured.
Cristina Cifuentes said the police, who have been criticised in some quarters for using rubber bullets and baton rounds against the protestors, "demonstrated their professionalism in very difficult circumstances".
Cifuentes told Radio Nacional de Espana that the protestors were "radicals" who wanted to destroy the Spanish political system, and condemned the "extreme violence" used against the police.
The Popular Party delegate referred specifically to the use of stones, bottles and metal objects during the attacks, which led to 35 arrests.
Spain's Socialist Workers Party (PSOE) had earlier denounced the actions of the authorities as "repressive" and "excessive" during what has become known as the 'Occupy Congress' protest.
The demonstrations centred on Neptune Square, near Spain's parliament building. About 1,400 people were involved, many of them shouting "shame" and "resign".
Reports suggest the protests turned violent when a group of demonstrators tried to smash the metal barriers protecting the lower House of Parliament, resulting in a series of arrests.
The protests were driven by the 'Indignados' movement, whose members have held a series of demonstrations to protest against the government's austerity policies and catalyse a radical change in Spanish politics.