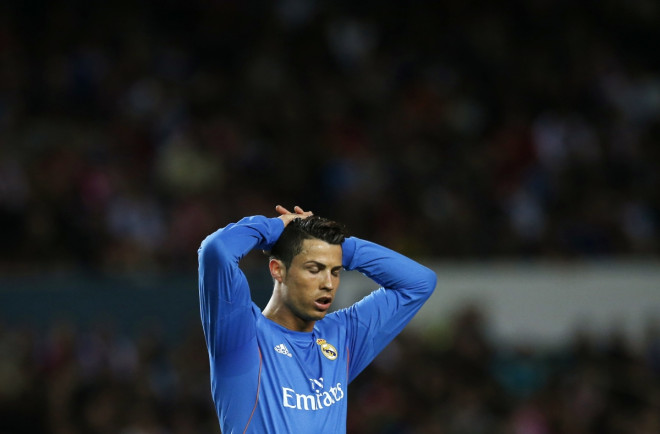 The Spanish press can smell Real Madrid blood after Los Blancos lost their second successive league match crashing to third position in the table after Barcelona and Atletico Madrid victories.
As Catalan sports newspapers dissect Real's defeat, the injury suffered by Barca's goalkeeper Victor Valdes also take up a lot of column inches. Sport screams: "La Liga is closer to Barcelona", "Fall of Madrid" and "Terrible Valdes' injury".
Mundo Deportivo carries a prominent photograph of Valdes with caption: "Valdes, broken". It also highlights the "KO" of Carlo Ancelotti's side: "Madrid left many choices to conquer La Liga". Besides the "OK" of Atletico: "Calderon replied, Costa did not fail and Atletico is sole leader with three points ahead of Real".
Real Madrid's recent defeat have allowed Madrid's press to forget about El Clasico's referee Undiano Mallenco and focus on Carlo Ancelotti's side. Daily AS says "Madrid faint in La Liga" and adds: "Things are heating up". Meanwhile, Marca similarly claim "Madrid give up La Liga in three days" as well as: "Atletico ride, Madrid anguish".
Mainstream newspapers have also piled in joining sports newspapers in analysing Real's debacle. El Pais describes the collapse: "El Clasico left Madrid very touched", explaining how Madrid has abandoned its aspirations: "The white team receive another drubbing and fall to a firm Sevilla launched by Bacca."
Meanwhile, El Mundo runs with caption: "Madrid jam", La Razon says: "Madrid get in trouble" and ABC leads with: "Madrid left La Liga in Sevilla". El Periódico dedicates its front page to Valdes with the graphic title: "Madrid bleed out in Sevilla and fall to third position" while La Vanguardia pronounces Barca are already ahead of Madrid and La Liga is in the Catalan club's hands, adding: "Tragic week".
With eight games left, Atletico now top La Liga on 73 points while Barca are second on 72, with Madrid third on 70.