Three dead sperm whales have washed up on a beach at Skegness on England's Lincolnshire coast, with sources confirming that all three mammals were dead before the reached the shore. This comes just days after another sperm whale was found on Hunstanton beach in Norfolk, with all four whales believed to be from the same pod, although the whereabouts of the remaining members are unknown.
The three mammals were found on Gibraltar Point in the seaside resort and were thought to have been beached on the 6.30am tide. Security guards have been called to stop hunters hacking off body parts as trophies.
Environmentalists, as well as members of the public, have been writing on the deceased whales in graffiti, with slogans such as 'MAN'S FAULT' and 'CND' (Campaign for Nuclear Disarmament) despite the organisation reporting that the action was not carried out by anyone from their department at a national level.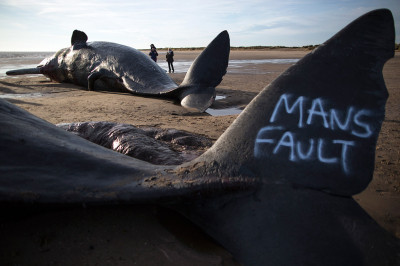 The beaching at Skegness has drawn much attention from the local community and East Lindsey District Council has been forced to urge the public not to go near the whales. A statement from the council said: "As is usual procedure when this type of event occurs, the council must make contact with the relevant authorities to check whether they wish to review the carcasses."