The Amazon rainforest has come to Seattle. The online shopping giant has launched the latest addition to its campus: three glass domes filled with 40,000 plants of 400 species, including a 50-foot (15.2-metre) fig tree.
Amazon calls it an "alternative work space" where "employees can work in an environment that's more like a tropical rainforest in the clouds than an office". Which raises the question: wouldn't you rather work in an office?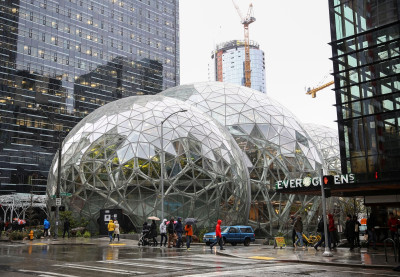 "The sound of running water and the scent of flowering plants create an instant botanical immersion that takes visitors far away from the urban landscape," the Amazon press release gushes.
"There are no enclosed offices, conference spaces, or desks," Amazon says (like that's a good thing). "But employees can meet in treehouses or in sitting areas and paths alongside cascading waterfalls. During the day, the interior is maintained at 72 degrees with 60 percent humidity, to emulate a cloud forest ecosystem. Lighting mimics a position near the equator, with 12 hours of shade and sun."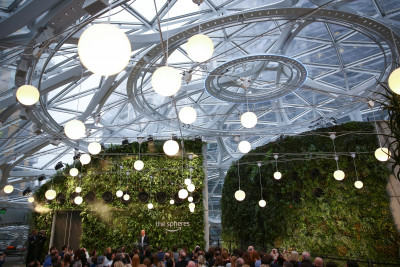 The company quotes a study that suggests that "spaces which embrace biophilic design can inspire creativity and even improve brain function". One could quibble and point out that the study was talking about getting out into the open, not being cooped up in a steel and glass climate-controlled bubble.
In fact, the study by Richard Louv goes on to discuss the problems caused by stresses such as "increasingly busy schedules, ... competition from electronic media, and culture of fear," stresses that may be all too familiar to Amazon employees
An August 2015 New York Times investigation into the secretive retail giant's employment culture painted a picture of a bruising environment that pushed workers to breaking point. Amazon was "conducting as an experiment in how far it can push white-collar workers to get them to achieve its ever-expanding ambitions, redrawing the boundaries of what is acceptable," according to the NYT.
The newspaper interviewed more than 100 former and current Amazon employees, who spoke of colleagues crying at their desks and being pitted against each other to increase productivity. Amazon was accused of encouraging employees' willingness to erode work-life boundaries and making them feel as though their self-worth was defined by their success within the company.
Amazon chief executive Jeff Bezos denied the allegations. "This article claims that our intentional approach is to create a soulless, dystopian workplace where no fun is had and no laughter heard. I don't recognise this Amazon and I very much hope you don't, either," he wrote in a memo to all staff. He urged employees to email him personally if they had experienced any of the behaviour described in the piece. Amazon hasn't revealed whether any took him up on the offer, but it has since made changes to the way it assesses the performance of its employees.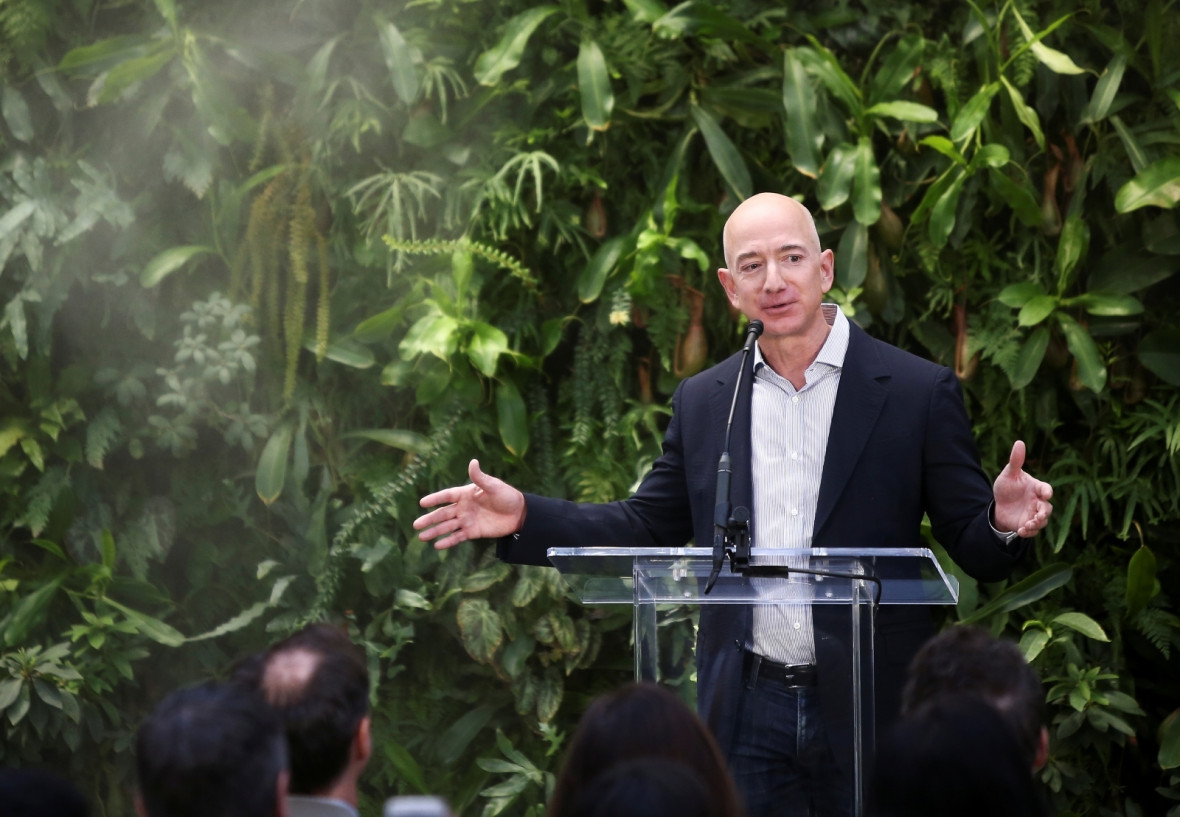 While Facebook and Google were building over weirder and wackier office spaces featuring indoor slides and caravan meeting rooms, Amazon was content to be based in a few anonymous office blocks. But now Amazon finally has its own architectural folly.