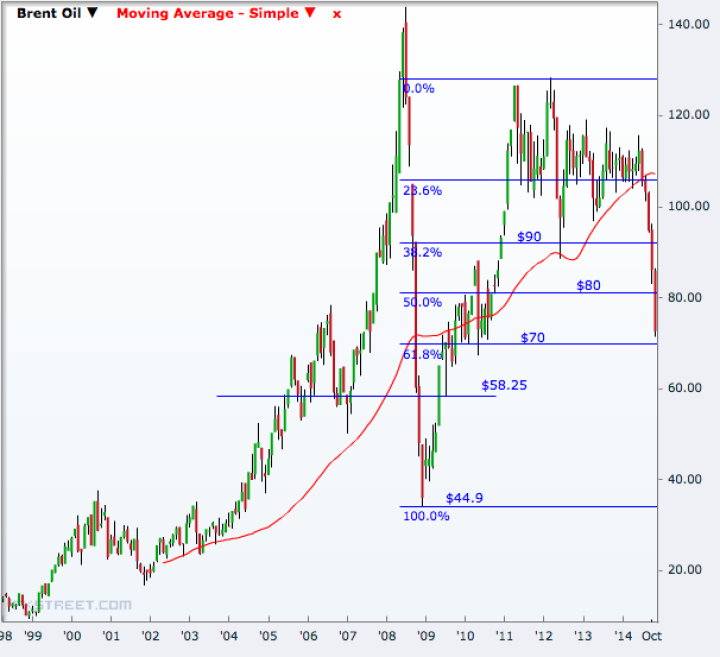 Crude oil prices continue to fall hitting new multi-year lows on Friday as the Organisation of Petroleum Exporting Commodities decided not to cut supplies even as exporters were scrambling to shore up revenues amid slowing demand.
Analysts expect prices to fall further or the state of very low prices to last longer.
Moody's has lowered its pricing outlook for the two benchmark crude oils and for natural gas liquids for 2015 and 2016 citing the steep drop in oil prices since the middle of this year.
The price assumption for European Brent and West Texas Intermediate (WTI) has been slashed by $10 in 2015 and $5 in 2016. For natural gas, it has been cut by $2 to $28 per barrel of oil equivalent in 2015, but remains unchanged at $30 for 2016.
Technically, the commodity has broken below major support lines, significantly reversing the 2008-2012 uptrend. A decisive break of the current support barrier will take it to $60.
Brent crude for spot delivery touched a new four-year low of $71.23/barrel before settling at $72.79. The commodity has been holding near $72/barrel on Friday.
Oil prices plunged after the 12 Opec members at their Vienna meeting on Thursday decided to maintain production at 30 million barrels per day as first agreed in December 2011.
Opec secretary general Abdallah Salem el-Badri said they would not try to push up prices by reducing production: "There's a price decline. That does not mean that we should really rush and do something."
Technical Analysis
Spot Brent has been holding above $76.75 since 14 November but the support was broken with the 5% drop on a single day after the Opec meeting on Thursday.
The commodity has ended all the months lower since July when it broke below the 50-month simple moving average as well.
It has broken below the 50% Fibonacci retracement of the 2009 January to 2012 March rally coming near $80 with the November fall. The next level is the 61.8% mark of $70, which has almost been hit with the impact of the Opec decision.
Further south, $58.25 will be a level to watch ahead of a retest of the $2008 low of $45.0.
Overall, the reversal of the 2009-2012 rally has gained sufficient momentum and risks to the downside are more compared to the upside. In case of a rebound, $80 and $90 are the first two levels to breach to call it a resumption of the uptrend.