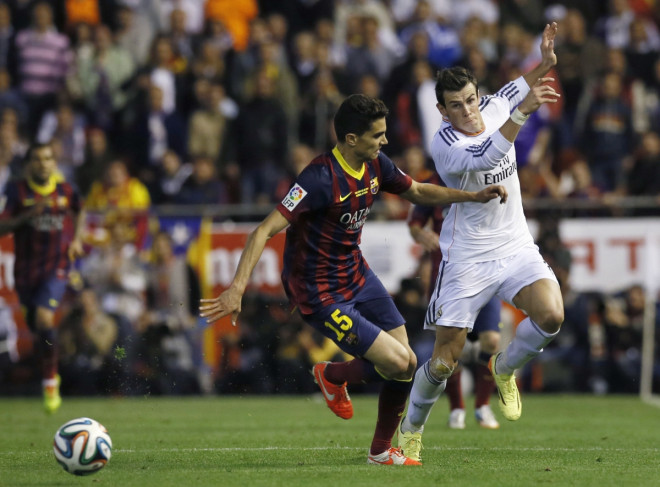 Barcelona defender Marc Bartra has hailed Gareth Bale's performance in the Copa del Rey final, claiming the Welshman is a physical marvel.
The Catalan scored his team's only goal in the final, having been brought on by coach Tata Martino after an hour.
But he was later embarrassed by the pace of Bale, who slalomed around him to score a superb winning goal.
Bartra explained why he could not stop the striker in the race, telling Barca TV: "Bale, who is a great player with exceptional physical gifts, caught me tired. But I don't want to take anything away from him as it was totally down to him."
However, despite his mistake which cost the Catalans the match, the 23-year-old is still happy.
"I have thought about everything, especially about the team. It was a blow to lose the final, but I am very happy because I scored a goal in a final and against [Real] Madrid – it is a reason to be happy."
The La Masia graduate has admitted that the hypothetical departure of Tata Martino at the end of the season "would be bad news", as it has been "the coach who has most confidence in my ability".
"I hope he can continue," he added.
About Barca's chances in La Liga, Bartra remains hopeful, saying: "We are aware that the four remaining games mean four finals. We must play with the same enthusiasm we showed against Athletic Bilbao [in last weekend's victory]. That will keep us well and we hope to win the league."
The Blaugrana currently occupy second place in La Liga with 81 points, four points adrift to leaders Atletico Madrid. Real are third, but have a game in hand.