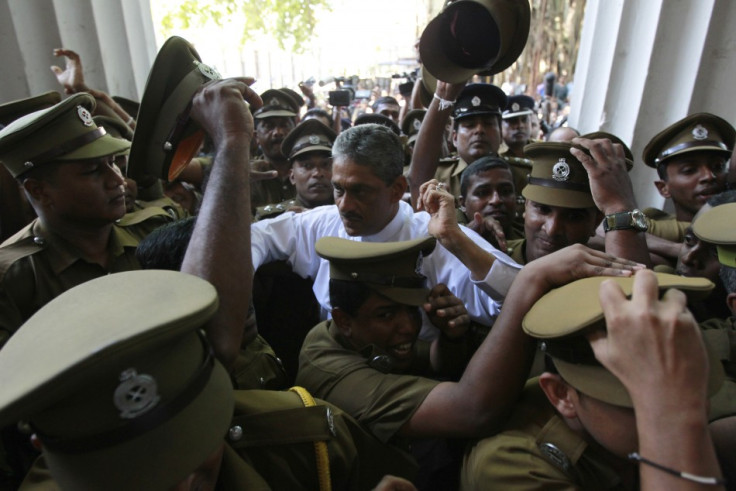 Sarath Fonseka, a former army chief in Sri Lanka, was jailed for three years Friday for accusing the president's brother of ordering the executions of Tamil rebels.
Fonseka is also currently serving a 30-month jail sentence after being convicted of corruption by a court martial.
Now, following a 2-1 split verdict, he has also been found guilty of violating emergency rules by "spreading rumours and causing public disorder" in an interview with a weekly newspaper.
Fonseka had at the time alleged that Gotabhaya Rajapaksa, the president's brother, had directly ordered the killing of Tamil rebels in May 2009, the final and the bloodiest stages of the Sri Lankan civil war.
During the trial Fonseka insisted the newspaper had used his comments out of context.
While the army men faced a maximum prison term of 20 years he was given a three years sentence which called for "rigorous imprisonment", meaning Fonseka is expected to carry out manual labour during his time behind bars.
Supporters of Fonseka had organised demonstrations throughout the trial and hundreds of them cheered him as he arrived to court on Friday.
The general was credited said to have played a crucial role in leading the Sri Lankan army to victory over the Liberation Tigers of Tamil Eelam.
He however fell out with the government and ran against Sri Lankan President Mahinda Rajapaksa in 2010. He now insists the cases against him are politically motivated.
Fonseka still faces another case in which he is accused of recruiting military deserters to use them as body guards during his presidential election campaign.
The United Nations estimates that at least 7,000 ethnic Tamil civilians were killed in the final months of fighting between government troops and the Tamil Tigers.