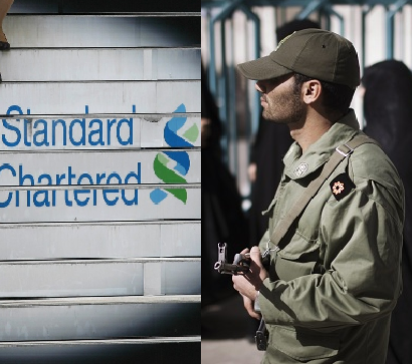 Standard Chartered may be suspended from doing business in New York after the firm was accused by state authorities of allegedly handling more than $250bn in transactions with Iranian banks that viloated US money laundering laws.
"For nearly a decade, SCB programmatically engaged in deceptive and fraudulent misconduct in order to move at least $250 billion through its New York branch on behalf of client Iranian financial institutions that were subject to US economic sanctions, and then covered up its transgressions," said New York's Department of Financial Services (DFS).
"SCB's actions left the US financial system vulnerable to terrorists, weapons dealers, drug kingpins and corrupt regimes, and deprived law enforcement investigators of crucial information used to track all manner of criminal activity," the US regulator added.
According to the DFS, Standard Chartered earned millions of dollars in fees for handling transactions on behalf of Iranian clients which included the Central Bank of Iran/Markazi, Bank Saderat and Bank Melli.
The US regulator has ordered the bank to explain its apparent violation of law and called the UK-based Standard Chartered a "rogue institution". The regulator is also planning to hold a formal hearing over the assessment of monetary penalties.
"The department's extensive investigation included the review of more than 30,000 pages of documents, including internal SCB e-mails that describe willful and egregious violations of law," said the DFS in a statement.
However, Standard Chartered maintained that it strongly rejected the portrayal of facts by the DFS. The bank said it previously informed the US authorities that it had "started a review of its historical US dollar transactions and their compliance with US sanction".
"[SCB] ceased all new business with Iranian customers in any currency over five years ago," it added.
"As we have disclosed to the authorities, well over 99.9% of the transactions relating to Iran complied with U-turn regulations. The total value of transactions which did not follow the U-turn was under $14m," Standard Chartered said in a statement.
The allegations against Standard Chartered are the latest in a series of regulatory violations involving the US arms of British banks.
Previous incidents include $298mn settlement in 2010 by Barclays and $350mn settlement by Lloyd's in 2009 for claims of trade laws violations with financial institutions from countries under US sanctions such as Cuba, Iran, Libya and Sudan.
Standard Chartered shares fell 6.2 percent to HK$176.50 at morning trade in Hong Kong, marking the biggest decline in the past 10 months.