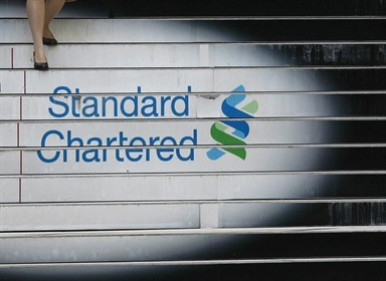 Standard Chartered has revealed that it will fail to meet its 10% revenue growth target for the current financial year amid a slump in its corporate banking businesses.
According to the UK-listed bank's latest trading update, revenue in the first three months to 30 September dropped by a "low single-digit percentage," as weakness in emerging market currencies weighed heavily on its balance sheet.
Standard Chartered makes more than 90% of its profits in Asia, Africa, and the Middle East.
The bank's finance director, Richard Meddings, said Standard Chartered didn't expect to reach its target of at least 10% revenue growth this year for a number of reasons.
While revenue slumped in the last quarter, revenue and operating profit expanded at a "low single digit rate" in the first nine months of this year.
The bank revealed that its first-half earnings would hurt full-year revenue by about $200m (£124m, €145m) and profit by $70m due to weakness in emerging market currencies including the Indian rupee and Indonesia's rupiah.
Standard Chartered shares fell in Hong Kong, erasing earlier gains, to reach HK$189.
Korea Weighs Heavily on Standard Chartered's Balance Sheet
In August this year, Standard Chartered unveiled a double digit percentage slump in pre-tax profits after the emerging markets bank took a $1bn hit on the value of its Korean business.
According to the group's first half year results, the London-based bank said profits tumbled by nearly 16% year-on-year, due to a sizeable writedown from its Korean arm that has had trouble since it bought First Bank in 2005 for $3.3bn.
"We cannot escape the realities of the Korean context, but we are determined to improve productivity and return on capital," Chief Executive Peter Sands said in a statement.
Standard Chartered said Korea remains its most difficult market and that it was writing down the value of the business.
However, the bank had warned the markets in June that it would, more aggressively, restructure the Asian country arm.
Standard Chartered's chief financial officer tried to calm market participants by stating that the bank expects to meet the $7.9bn consensus forecast for 2013 pre-tax profits, excluding the Korean writedown.
Richard Meddings added that the hit from the value of the Korean business reflects the reality of a tough market and a slump in return on equity across the industry.