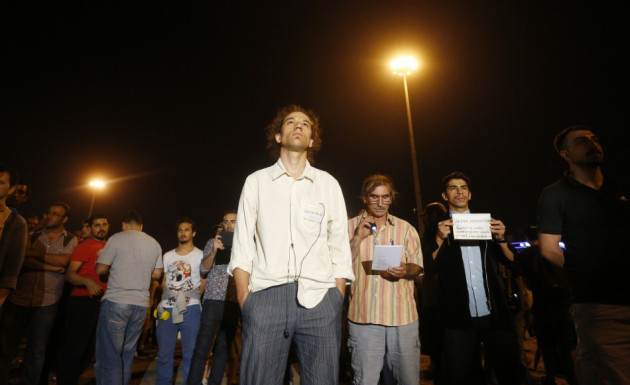 A man who staged a silent eight-hour vigil in Istanbul's Taksim Square, staring at a massive portrait of modern Turkey's founder Mustafa Kemal Ataturk, has inspired hundreds of followers.
Erdem Gunduz, a performance artist quickly dubbed the "Standing Man" took up his position two days after police swept the square clear of protesters with teargas and water cannon.
Gunduz stood without making a sound opposite the Ataturk Cultural Centre which is due to be demolished under controversial redevelopment plans.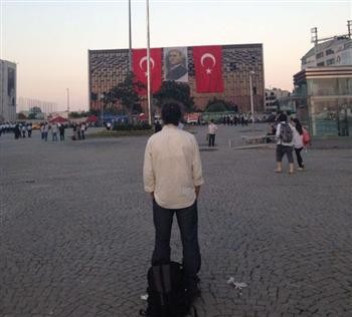 Three hundred people joined him, said witnesses, and police eventually moved in to end the silent protest, arresting many of those who joined him. According to The Week, Gunduz slipped away into the crowd.
"The real violence is not showing what is going on," he told the BBC's Turkish service after the protest. "Four people have died, there are thousands of wounded, but the media, unfortunately, has shown us nothing."
The hashtag standingman and its translation in Turkish "duranadam" went viral on Twitter with several pictures and videos portraying Gunduz' protest.
Translator Canan Marasligil reported on Free Word Online that Gunduz's purpose was to stand in the square for days in protest against the police crackdown on demonstrations in Gezi Park.
"In Istanbul, Ankara, Adana, and as far as New York and Paris, people followed the movement to just stand and share a picture of that instant of peaceful resistance," Marasligil said.
"Some people choose to stand in places where major events occurred, such as the street where [murdered journalist] Hrant Dink was killed in 2007 or the hotel where the Sivas Massacre took place in 1993, sending a powerful message to the authorities: 'We did not forget'."