"Star Trek" actor George Takei's official merchandise page was taken offline Thursday when the Internet service provider thought it was being hit by a denial of service attack.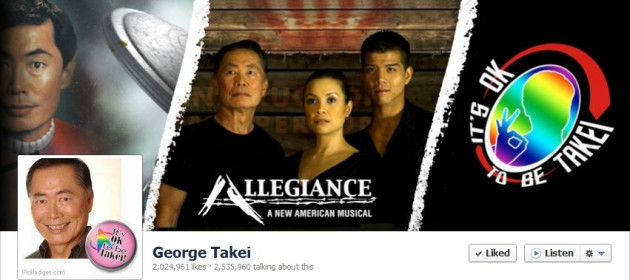 Unknown to the ISP, the huge influx of traffic was caused by too many of Takei's 2,024,961 online fans trying to log on after he posted a link to a T-shirt on his Facebook page.
"Apparently, my fans here collectively can now resemble a coordinated world-wide web assault," Takei said in a later Facebook post.
The problems started at 8:29 p.m. British time when he posted a link to a new T-shirt designed to allow his straight fans to show their support for gay pride.
"Are you straight but 'Takei Friendly'? Many of you asked, so my merch team responded, with 'TSA: Takei Straight Alliance' shirts, as well as 'Proud Takei Supporter' and 'Takei Friendly' designs, so we can all celebrate Pride month together," the text next to the link read.
A Facebook status update at 8:52 p.m. then confirmed that site had fallen over because of too much traffic.
"Many apologies for the site crash, friends. We are working on getting my merch site back up, but apparently the crush of fans visiting the site brought it to its knees. Please do check back later in the day, and thanks for your patience," Takei said.
It was 9:20 p.m. when he sent the update that his ISP doesn't know the difference between a rush of users trying to buy T-shirts and an attempt to knock his site off the web by overloading it.
"Update: For the nerds out there, I'm informed that the ISP hosting our merch site shut down the site temporarily, believing that the anomalous spike in traffic was an attack (e.g. denial of service attack), which triggered automatic shut-offs," he posted half an hour after the site was taken down.
The comments on his Facebook page warned Takei that he now possessed a new power.
"You now command an entire army that can take down any site at will, just say the word... You should call your army Takei's Tribbles!" said Facebook user Chris Bahr.
Eric Allen questioned the ISPs logic in its automatic countermeasures: "So, they thought it was a denial of service attack....so their remedy was to deny everyone service.....makes sense."
Meanwhile, Cynthia Spurling asked in jest, "So we should take turns going to the site?"
The actor and director later posted that, "The site appears to be working again" and asked 'Takei friendly' fans to show their support.
All proceeds from the sale of merchandise go to the non-profit Old Globe Theater in San Diego, which is staging Takei's show "Allegiance" this autumn.