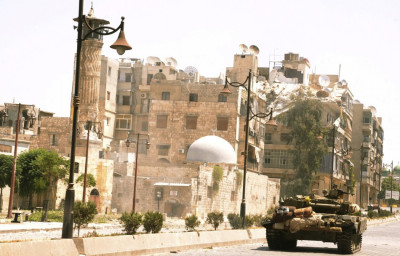 Syrian army tanks and armoured vehicles shelled rebel-controlled districts in Aleppo as fierce fighting shows no signs of abating.
The Syrian Observatory for Human Rights said that President Bashar al-Assad's troops entered the Saif al-Dawla district. A number of explosions were reported.
In a bloody day even by Syrian standards, 160 people have been killed nationwide, according to reports.
Regime forces bombed pockets of resistance in several parts of the Salahuddien neighbourhood, the first district of Aleppo to come under rebel control. Fighting to take the city has been raging for a month.
Aleppo is of great strategic importance to both sides because of its size and location - just 40km from the Turkish border.
But the fighting is exacting a heavy toll as many residents are trapped in their homes and food supplies are running out.
A doctor at a makeshift hospital said: "People are coming to us now as a charity. A woman came inside and we thought she needed medical attention, but instead she asked for food.
"She said her family hadn't eaten for days and she had no money to buy anything."
Another doctor reported how a man, who had just been shot in a foot, was more concerned about losing the food he had bought for his family than his foot.
"He started crying: 'My food! My food! Someone catch my tomatoes!' It shows you how desperate he was to save his family's dinner for the day because he couldn't guarantee he could get food again," the doctor said.
Indiscriminate use of heavy weapons
Bombardments and firefights were reported in the al-Tal suburb of the capital Damascus and in the central Homs and eastern Deir al-Zour provinces.
There were heavy losses among civilians.
"It's clear that violence is increasing in many parts of Syria. The indiscriminate use of heavy weapons by the government and the targeted attacks by the opposition in urban centres are inflicting a heavy toll on innocent civilians," said the head of the UN Supervision Mission in Syria (UNSMIS) Gen Babacar Gaye.
On the international stage the US has lifted sanctions against former Syrian prime minister Riyad Hijab because of his defection and Russian deputy foreign minister Mikhail Bogdanov said that embattled Syria's president Bashar al-Assad had agreed to step down.