Wildfire has broken out in California as the state continues to suffer into the fifth year of a devastating drought, with the current summer the hottest on record. Governor Jerry Brown has declared a state of emergency, which will provide extra funds for firefighters and resources.
82,000 people have been ordered to evacuate their homes east of Los Angeles in the San Bernardino Mountains where a massive fire across grueling terrain is defeating firefighters. Some 34,000 homes and other structures are threatened.
The latest to break out, the Blue Cut fire, is 0% contained as of late night Tuesday (16 August). It is spreading rapidly with flames as high as 100 feet (30m) in the air and tornado-like fire winds, reports ABC.
It began in the Cajon Pass and rapidly spread to some 18,000 acres (7,285 hectares) throughout parts of the San Bernardino Mountains. Authorities have been forced to shut down a section of Interstate 15, the highway that connects Los Angeles to Las Vegas.
The Summit Inn, a popular diner that opened in 1952 on the crest of the famous Route 66, has already been lost. At least a dozen other buildings have also been destroyed but an exact count isn't currently possible.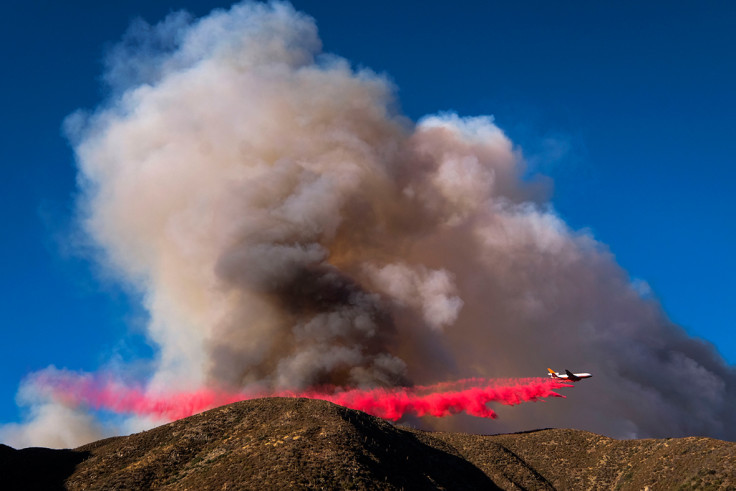 A further burden on residents is loss of animals as the fire outpaces efforts to save pets and farm animals. Horse rescue center Mea Ola's Place and the nearby Mustang Spirit organisation are coordinating efforts to assist their surrounding neighbours under mandatory evacuations, and have called for any available trucks, trailers, supplies and volunteers to help save the animals.
But now Mea Ola's Place may itself be threatened. "We are still helping others, but the fire is creeping our way. Please pray for us," wrote founder Ann Kline in a Facebook post.
"This fire is burning in significantly different terrains at multiple elevation levels," San Bernardino County fire spokesman Eric Sherwin told AP. Firefighters struggled to control the massive Sand Fire near the same area just two weeks earlier.
Besides battling flames in the southern mountains, firefighters are also continuing to fight the Clayton fire in northern California and the Chimney fire in San Luis Obispo County. Two brush fires have also erupted in Camp Pendleton in San Diego County.