Steam has kicked off its online summer sale which carries offers and discounts on popular games like Bioshock, Skyrim and Civilisation V game till 22 July.
The Daily deals section is offering big games such as Bioshcock Infinite and Hotline Miami on 50% and 75% discounts, costing as low as £17.49 and £1.74 respectively.
The daily deals for games and discounts will change every 24 hours. A series of flash sales with big discounts reaching up to 85% run for a limited period of eight hours.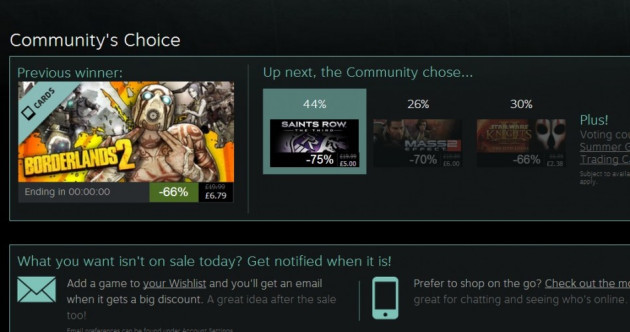 In community's choice, Steam registered users can vote for the next game that should be available at a discount. There is an eight-hour time slot for the users to vote.
Borderlands 2 is available on purchase for £6.79 (66% off) for the next eight hours based on steam vote count.
Popular games such as Saints Row: The Third, Mass Effect 2 and Star Wars: Knights of the Old Republic 2 are the next three options voted for £5, £6 and £2.38 respectively. Saints Row is currently leading with 44% votes followed by Mass Effect and Star Wars with 26% and 30% respectively.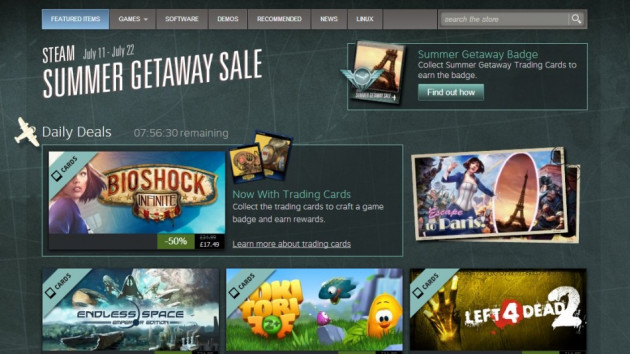 Apart from discounts, buyers will get Steam Trading Cards with the purchase of each game. More cards can be collected depending on the skills of the gamer. Additional cards will be given to players for every £6 ($10 approx) spent on sale, according to Game Spot.
Game badges can be traded for 10 game cards. The gamer can purchase new chat emoticons, profile backgrounds and game DLC coupons by trading the badges.
The badges will include gamers' Steam level XP which will help them to level up. One can earn non-tradable items like profile showcases, extra friends list slots and others depending on the level.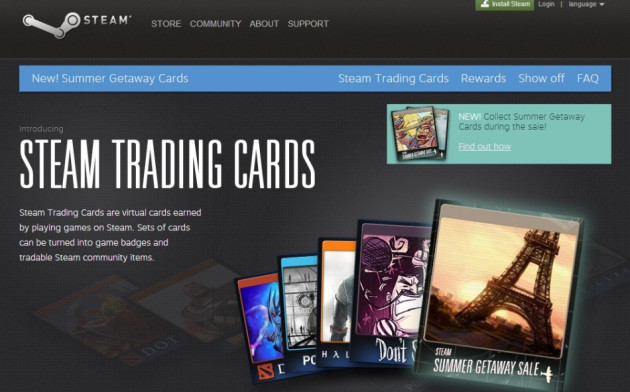 Players who are at Steam level five or above will get an extra card for every third vote they cast in the community choice section.
Below is the list of games on sale (at the time of writing):
Daily Sales (With Steam Cards)
Bioshcock Infinite - £17.49 (50% off)
Endless Space-Emperor Edition - £8.49 (66% off)
Defiance - £6.79 (66% off)
Don't Starve - £7.19 (40% off)
Left 4 Dead 2 - £3.74 (75% off)
Toki Tori 2+ - £7.91 (34% off)
Hotline Miami - £1.74 (75% off)
Daily Sales (Without Steam Cards)
Call of Juarez Gunslinger - £8.03 (33% off)
Antichamber - £5.09 (66% off)
Flash Sales (With Steam Cards)
Bastion - £1.71 (85% off)
Euro Truck Simulator 2 - £6.24 (75% off)
Flash Sales (Without Steam Cards)
Cities XL Platinum - £4.99 (75% off)
Dark Souls: Prepare To Die Edition - £4.99 (75% off)
Other games Like Skyrim (DLC packs), Sid Meier's Civilisation V: Brave New World, Borderlands 2 Seasonal Pass are available starting from 30% discount to 66% discount.