Stephen Hawking hopes to travel to space aboard Richard Branson's Virgin Galactic.
In an interview, which is scheduled to air Monday, the 75-year-old leading physicist and cosmologist said he hadn't expected that he would have the opportunity to travel into space but that he eagerly accepted Branson's offer of a seat on the Virgin Galactic, which was licensed last year to fly tourists into space.
He told the TV show Good Morning Britain: "I can tell you what will make me happy, to travel in space. I thought no one would take me but Richard Branson has offered me a seat on Virgin Galactic, and I said yes immediately."
He also said that he was excited about the future of space exploration given Nasa's recent discovery of Trappist-1 exoplanets. He said although current technology hinders chances of humans travelling 39 lights years away to the Trappist-1 system, robotic nanocraft moving at "20% of the speed of light" may help further missions.
"These nanocraft weigh a few grams and would take about 240 years to reach their destination and send pictures back. It is feasible and is something that I am very excited about," he said.
On Brexit
Hawking also spoke about Brexit concerns, claiming that if the referendum decision has to be implemented, "it shouldn't be a hard Brexit as the right wing of the Conservative Party want". He warned that leaving Europe "threatens Britain's status as a world leader in science and innovation".
The Cambridge scientist added: "That would leave us isolated and inward-looking," he said. "Instead, we should retain as many links as possible with Europe and the rest of the world, particularly China."
He also predicted that Labour, which he backed during the 2015 election and would continue to support, would not win the next election under Jeremy Corbyn. "I don't believe there will be much chance of Labour winning an election under him. He doesn't come across as a strong leader, and he allowed the media to portray him as a leftwing extremist, which he's not," Hawking said. "It's no good having the right principles if you never get in power."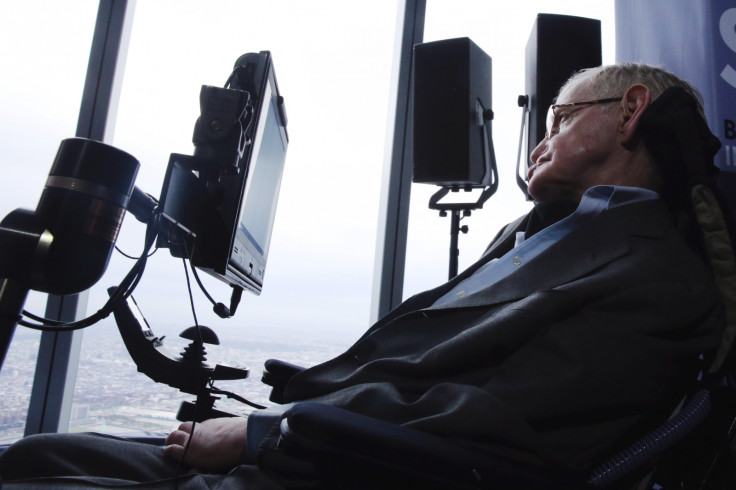 Trump and America
Hawking also discussed fears about America's "definite swing to a rightwing" and the "more authoritarian approach" adopted by the new administration, adding that he fears he would not be welcome in the US.
"I would like to visit again and to talk to other scientists, but I fear that I may not be welcome."
He added: "Trump was elected by people who felt disenfranchised by the governing elite in a revolt against globalisation. His priority will be to satisfy his electorate, who are neither liberal nor that well informed."
Hawking also suggested that Trump replace Scott Pruitt as the EPA head to focus more on combating climate change.
"He should replace Scott Pruitt at the Environment Protection Agency," he said. "Climate change is one of the great dangers we face, and it's one we can prevent. It affects America badly, so tackling it should win votes for his second term. God forbid."
Hope for women's empowerment
Hawking also noted that the current "seismic shift" in gender equality, represented by the five most powerful people in Britain being women, indicated that there is hope for further empowerment of women in the future. He said the Queen, Prime Minister Theresa May, Scottish First Minister Nicola Sturgeon, Home Secretary Amber Rudd and Met Police Commissioner Cressida Dick were evidence that times have changed.
"I welcome these signs of women's liberation," Hawking said. "But there may still be a gap between those women achieving high public status and those in the private sector.
"It is not scientific proof of gender equality that is required, but general acceptance that women are at least the equals of men, or better. This is coming. If we factor in high-powered women in Europe as well, such as Angela Merkel, it seems we are witnessing a seismic shift for women to accede to high-level positions in politics and society.
"I have always supported women's rights. I moved the admission of women to my college, Gonville and Caius College, Cambridge. The results were wholly good."
The meaning of happiness and life
On the meaning of life and happiness, Professor Hawking said: "My three children have brought me great joy." When asked whether he had figured out the mystery of love, the scientist responded, "Thankfully, this is beyond human reasoning. And should remain so."