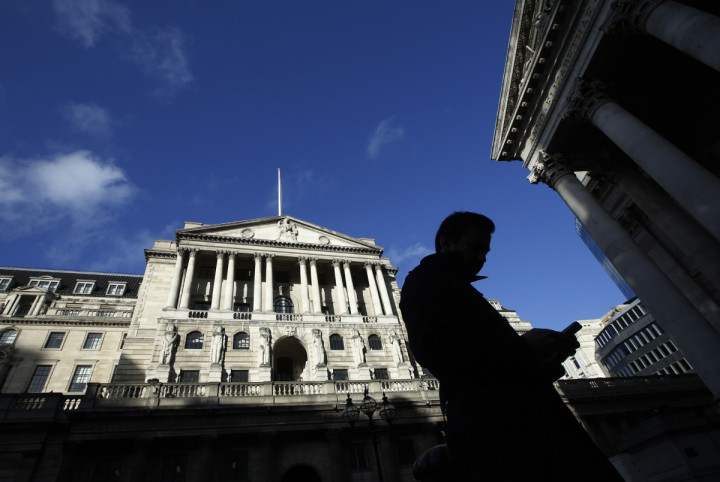 The British pound shed some of its recent gains after the much awaited Bank of England minutes, which did not add to the hawkish tone already set by central bank governor Mark Carney.
Sterling eased to 1.6932 from near 1.6975 against the US dollar. It fell to 173.04 from 173.60 against the yen and to 0.8011 from 0.7985 versus the euro. Against the Swiss franc, pound fell to 1.5206 from 1.5260.
"The persistence of headwinds, together with the legacy of the financial crisis, meant that Bank Rate was expected to remain below average historical levels for some time to come," the minutes showed.
"If policy were tightened prematurely, however, that could be associated with considerable costs in terms of lost output. That was particularly important when the starting point was one from which interest rates could not easily be reduced."
The minutes linked the timing of the next rate rise to inflation. "The precise timing of the rise would depend on the outlook for inflation. That, in turn, would depend on the data flow, and in particular what that implied for the degree of slack, the prospects for its absorption, and the broader outlook for wages," it said.
Overall, the minutes have provided mixed signals, some analysts said, adding that the pound is unlikely to lose much of its strength on account of Wednesday's remarks.
"For some members, the policy decision had become more balanced in the past couple of months than earlier in the year. In terms of the immediate policy decision, however, all members agreed that, in the absence of other inflationary pressures, it would be necessary to see more evidence of slack being absorbed before an increase in Bank Rate would be warranted."
Short-term Technical Outlook
GBP/USD has now found support at the 38.2% Fibonacci retracement of 12 June to 16 June rally and it aims the 50% level of 1.6907 and the 61.8% mark of 1.6883 after that.
On the higher side, 1.6960 is the level ahead of the 1.7000 mark, a break of which will take the pair to 1.7045.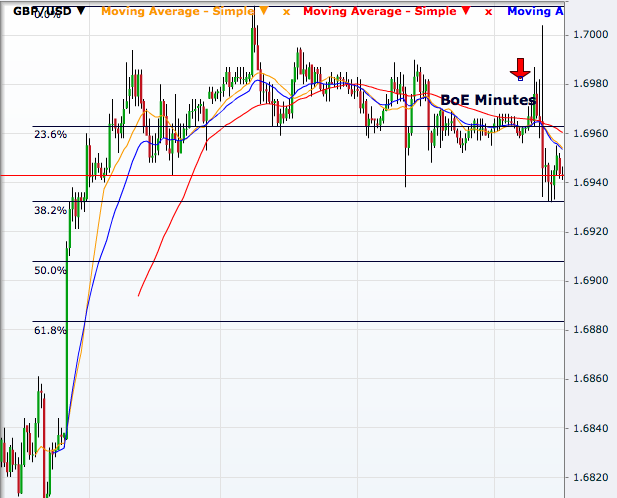 EUR/GBP has first resistance at 0.8025, the 61.8% retracement of the 12 June to 16 June drop in the cross as it is currently at the 50% level. On the downside, it will target 0.7983 ahead of 0.7960.
GBP/JPY is now supported by the 23.6% level of the 12 June to 18 June uptrend and the next levels are 172.65 (38.2%), 172.30 (50%) and 172.00 (61.8%) ahead of 171.00. On the higher side, 173.70 is the next level to see.
In GBP/CHF higher levels to watch are 1.5250, 1.5275 and 1.5300. On the downside, the cross aims 1.5200, 1.5180, 1.5130 ahead of 1.5100.