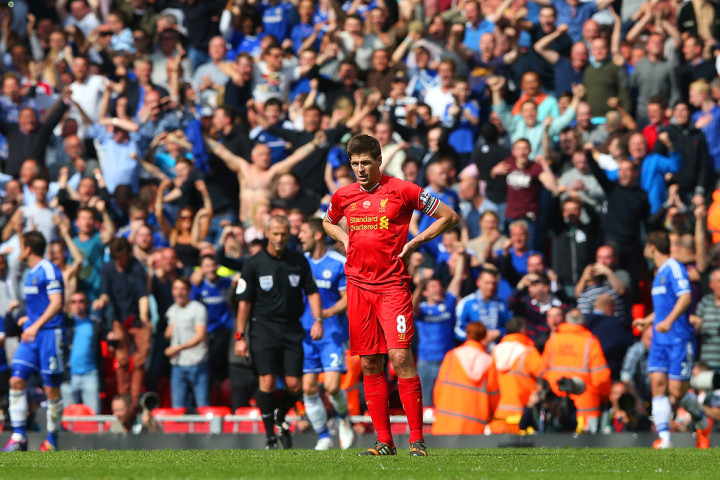 Steven Gerrard is confident that Liverpool can be genuine contenders for the Premier League title once again in the upcoming campaign.
The Merseyside club could have been English champions this year for the first time since 1990 but for a collapse in their final three fixtures. They amassed only four points against Chelsea, Crystal Palace and Newcastle United, which enabled Manuel Pellegrini's Manchester City to win the title by two points on the final day.
The Reds skipper feels that Brendan Rodgers' side have learnt their lesson from last season and hopes that the players will be motivated to finish on top of the league table next year.
"I think this is the first time in a long time that I can be confident of telling people that we are the real deal and are real title contenders before a ball has been kicked," Gerrard told Liverpool's official website.
"I think the fans will agree with me that the performance levels last season were incredible. Some of our performances were top-drawer. I believe we are in a much better place now than we were this time last year."
"The reason being because we've got the taste, the know-how and the experience of being in a title race. If we can use the hurt of falling short last season in our favour then hopefully we can go one better," he added.
Gerrard recently announced his retirement from the England squad citing his intentions to concentrate solely on helping Liverpool win trophies in the coming years.
The 34-year-old midfielder points out that the only method of overcoming last season's distress will be to perform immaculately and win silverware next year.
"When you play at this level the margins are so tight, so when you fall short of something having been within touching distance the emotions are still going to be raw and will take time to get over," Gerrard explained.
"The only way to do that is to go and achieve something this season. But the longer I've reflected upon it and analysed the season, you can look back and be proud of your teammates," he concluded.