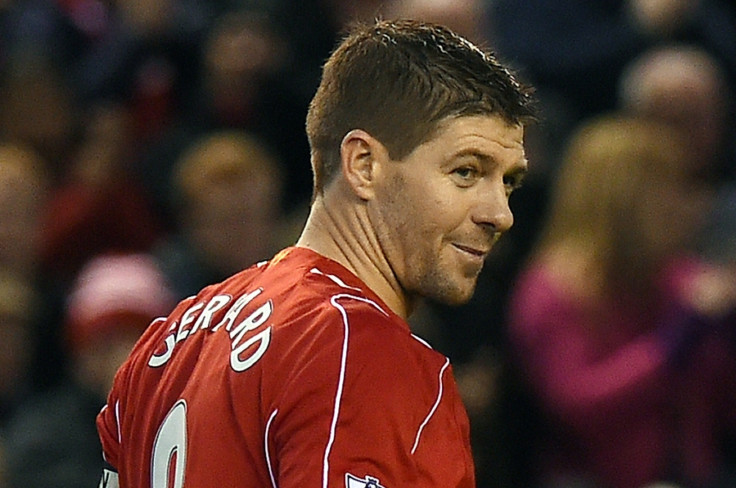 Liverpool captain Steven Gerrard will leave Anfield at the end of the 2014/15 season after 17 years at the Merseyside club, the 34 year old has confirmed.
The Reds skipper is out of contract in the summer but has failed to agree to an extension and could move to Major League Soccer, with La Galaxy among the clubs linked with the former England international, after confirming he will leave English football altogether.
Gerrard departs Liverpool as arguably the greatest player in the club's history, winning 10 honours across 16 and a half seasons - including the Champions League in 2005 - since making his first team debut in 1998.
"This has been the toughest decision of my life and one which both me and my family have agonised over for a good deal of time," he told the club's official website. "I am making the announcement now so that the manager and the team are not distracted by stories or speculation about my future.
"Liverpool Football Club has been such a huge part of all our lives for so long and saying goodbye is going to be difficult, but I feel it's something that's in the best interests of all involved, including my family and the club itself.
"I'm going to carry on playing and although I can't confirm at this stage where that will be, I can say it will be somewhere that means I won't be playing for a competing club and will not therefore be lining up against Liverpool - that is something I could never contemplate.
"My decision is completely based on my wish to experience something different in my career and life and I also want to make sure that I have no regrets when my playing career is eventually over.
"I can't thank Brendan, the owners and everyone at the club enough for how they've handled this and I am leaving on great terms. Also, I would like to thank my teammates and all the staff for their help and continued support.
"It is a very special place to be part of. It is my sincere hope and wish that one day I can return to serve Liverpool again, in whatever capacity best helps the club.
"One point that is important to make is that from now until the last kick of the last game of the season, I will be as fully committed to the team as I ever have been and giving everything I have to help Liverpool win games.
"My final message is for the people who make Liverpool Football Club the greatest in the world - the supporters.
"It has been a privilege to represent you, as a player and as captain. I have cherished every second of it and it is my sincere wish to finish this season and my Liverpool career on a high."
Gerrard joined the Liverpool academy aged eight and after making his debut against Blackburn Rovers in 1998 has made 695 appearances over nearly 17 years, scoring 180 goals.
Despite carving out a reputation as one of the finest midfielders in Europe, the absence of a league title on Gerrard's CV represents the greatest blotch on his status as the club's greatest ever player.
Amid a host of stunning individual performances, Gerrard's slip against Chelsea which allowed Demba Ba to open the scoring in April's crucial title decider, contributed to the denying the club their first championship since 1990.
However, the deluge of inspired performances from Gerrard across his two decades at Liverpool overshadow any of his failures in the eyes of Reds fans with the showing which brought the club a fifth European Cup in 2005 among the finest by an English player in continental competition.
A last-minute goal from the ex-England captain against Olympiakos fired Liverpool into the knock-out stage which after slaloming their way to the final under Rafael Benitez, against AC Milan, Gerrard produced an iconic second half display as the club prevailed on penalties after a 3-3 draw after extra time.
Gerrard's netted an early second half header with Liverpool trailing 3-0 at the break and later won a penalty which drew the club level and helped spark the most remarkable of comebacks on the biggest stage in European competition.
The following season Gerrard repeated those heroics in helping to defeat West Ham United in the 2006 FA Cup final, with a stunning stoppage time equaliser helping to take the game to penalties where Liverpool prevailed once again.
Manager Brendan Rodgers added: "It is almost an impossible task to find the words to appropriately sum up Steven Gerrard and his importance to Liverpool. This is an era where the word 'legend' is vastly overused, but in his case it actually doesn't do him justice.
"From a personal point of view I will always have gratitude for the support he gave me, when I arrived here as manager.
"Steven came to see me and promised he would be 100 per cent behind me and do everything he could to help as we looked to introduce new ideas and a new way of working.
"As a player he is immense and the influence he has on games should never be understated. At times he has carried this club on his back and in my time here he has always shown the ability that has rightly seen him be regarded as one of the world's best for well over a decade.
"As a leader and as a man, he is probably incomparable to anyone I have ever worked with. He takes professionalism to a new level and the dedication he has to his work is an example to everyone in the game.
"He is also someone who has always put the club and team ahead of himself and I think that will ultimately be his legacy.
"People better placed than me to judge have said Steven is Liverpool's greatest ever player; when you look at the company he is in, that is some statement.
"We of course will miss him, both on the field of play and in his capacity as club captain, but his influence will live on and we wish him nothing but joy and success wherever he chooses to go next.
"Until that moment arrives I will continue to enjoy working with Steven Gerrard the man and Steven Gerrard the player, one of the greatest we have seen."