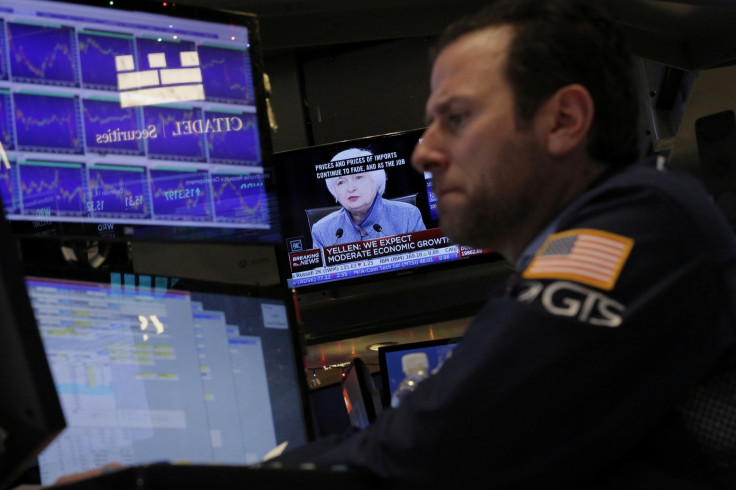 US stocks dropped following a turbulent trading session on Wednesday (14 December) as investors reacted to the Federal Reserve's decision to raise its key short-term rate. The Fed also unexpectedly forecast three rate increases in 2017 instead of the two that had been anticipated.
"Three rate increases next year is something of a surprise, and it may take some time for investors to digest that," Mike Loewengart, vice president of Investment Strategy at E-TRADE, told MarketWatch.
"It is indicative of a stronger economy, but with increased borrowing costs it won't be as easy for companies that are reliant on debt. This is the next step in our transitioning back to an environment where fundamentals matter more than policy, and some investors may be pausing because of that," Loewengart added.
The three major indices traded higher briefly following the announcement but dipped as Fed Chair Janet Yellen began her press conference, MarketWatch reported. The Fed raised its key short-term rate from a range of 0.25% to 0.5% to a range of 0.5% to 0.75%. It expects three rate hikes in 2017, two to three in 2018 and three in 2019, according to CNBC.
The Dow Jones Industrial Average plummeted 118.5 points, or 0.6%, to settle at 19,792.66 after hitting a new intraday high earlier in the session. CNBC reported that Caterpillar, 3M and Boeing contributed the most losses.
The S&P 500 index fell 18.44 points, or 0.8%, to close at 2,253.28. All 11 of the index's primary sectors closed lower, with so-called defensive names among the weakest. According to MarketWatch, the utilities, real estate and consumer-staples sectors all dropped more than 1%.
Meanwhile, the Nasdaq Composite Index fell 27.16 points, or 0.5%, to trade at 5,436.67.
US Treasury yields traded higher, with the two-year yield rising to 1.2673% and the 10-year yield jumping to 2.5525%. CNBC noted that Treasury yields have sharply rising since Donald Trump's election victory, with optimism about possible inflationary policies hitting the market.
Gold prices rose ahead of the Fed's interest rate decision, as did the US dollar. According to CNBC, the US dollar jumped 1.1% against several currencies, with the euro near $1.052 and the yen by 117.12. The greenback rose against the British pound, which held near $1.2617.
US crude for January delivery dropped 3.7% to settle at $51.04 per barrel. The drop followed the Energy Information Administration's report of a drawdown of 2.6 million barrels. MarketWatch noted that the energy sector fell 2.2%, with ExxonMobil Corp itself sinking 2.2%.