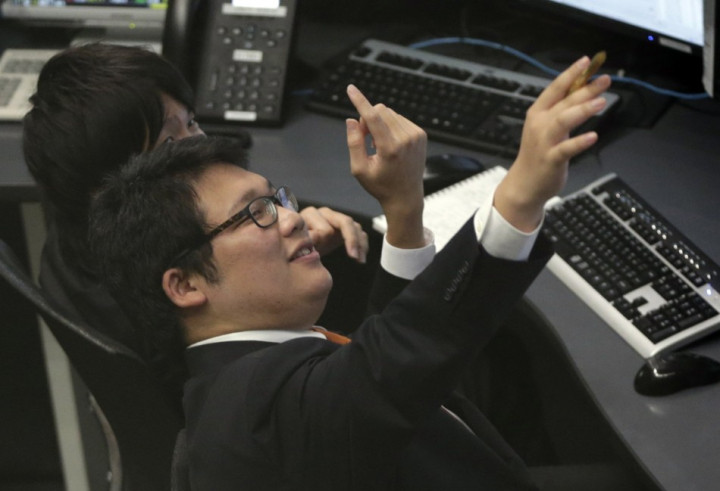 Asian markets rallied on 19 September after the US Federal Reserve decided to maintain the current pace of its $85bn a month bond-buying stimulus programme.
Japan's Nikkei finished 1.80% higher or 260.82 points at 14,766.18.
Australia's S&P/ASX finished 1.10% higher or 57.40 points at 5,295.50.
Hong Kong's Hang Seng was trading 1.64% higher or 378.67 points to 23,496.12.
India's BSE Sensex was trading 2.98% higher or 594.22 points to 20,556.38.
Financial markets in mainland China and South Korea remained closed for the public holidays.
The US Federal Reserve shocked the world after it announced that it would stay the course and not start paring back its asset-buying stimulus.
On 18 September, the world's most powerful central bank defied market consensus and decided against reducing its massive monthly asset buys as the current pace of economic growth in the US did not justify tapering monetary stimulus.
In addition, Fed Chairman Ben Bernanke refused to clarify whether the Fed would taper its bond purchases at all this year. Instead, he asserted that the programme was "not on a preset course."
"Bulls are rejoicing after the Fed and Ben Bernanke decided to maintain monthly bond and mortgage backed security purchases at US$85 billion per month. While Bernanke's dovish comments and lowered guidance on economic growth clearly highlighted the deteriorating health of the US economy, stock investors jumped up and down for joy. Continuation of QE is extremely bullish for equities leading into the back end of 2013," says Tim Radford, global analyst at Rivkin Securities.
"This part of the cycle is where scepticism starts to dissipate and euphoria ensues. With U.S. stocks unexpectedly breaking to new all-time highs overnight, left over cash sitting on the sidelines will now likely be forced to chase gains in equities. Ultimately however, this will have to end, and will end badly when the Federal Reserve decides to start not only reducing stimulus, but turning off the tap completely. But for now bulls are content with the Federal Reserve's decision, which could easily see the S&P 500 Index surge toward 1,800 by year end," Radford adds.
Wall Street Up
On Wall Street, indices ended higher on 18 September following the Fed's decision, with the Dow and the S&P indices logging record gains at the end of day's trade.
The Dow finished 147.21 points or 0.95% higher a 15,676.94, boosted by Alcoa and Home Depot.
The S&P 500 closed 20.76 points or 1.22% higher at 1,725.52.
The Nasdaq ended 37.94 points or 1.01% higher at 3,783.64.
Company Stock Movements
In Tokyo, Pacific Metals jumped about 10% while Sumitomo Metal Mining shot up 8% after copper prices hit a three-week high.
Automaker Isuzu Motors added 5.6% while Suzuki Motor added 4%.
In Hong Kong, gold miner Zhaojin Mining Industry jumped 7.7% while rivial Zijin Mining added 6% after on a 4.2% increase in gold prices overnight.
In Mumbai, ICICI Bank, India's second-largest lender by asset value, jumped 8.5%. HDFC Bank added 4.5%.
In Sydney, gold miner Kingsgate Consolidated soared 20%. Rivals Perseus Mining surged 17%, Medusa Mining shot up 15% and Newcrest Mining jumped 7.5%.