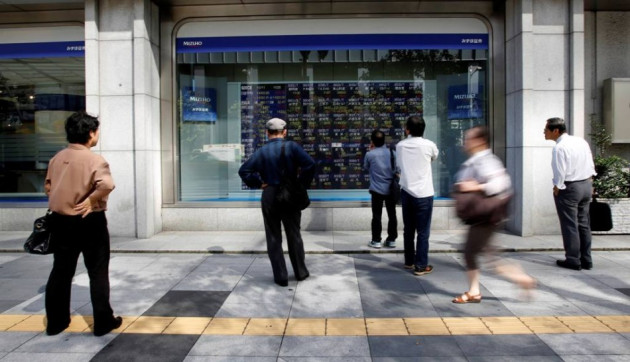 Asian markets opened higher on 28 October, with Australia's benchmark index hitting a record five-year high, after a strong handover from Wall Street helped offset concerns surrounding tight liquidity in China.
The Japanese Nikkei finished 2.19% higher or 307.85 points at 14,396.04.
Australia's S&P/ASX finished 1.02% higher or 55.10 points at 5,441.40.
South Korea's Kospi finished 0.68% higher or 13.75 points at 2,048.14.
The Shanghai Composite finished 0.04% higher or 0.91 points to 2,133.87.
Hong Kong's Hang Seng was trading 0.50% higher or 113.06 points to 22,811.40.
India's BSE Sensex was trading 0.12% higher or 24.11 points to 20,707.63.
Last week, China reported a sharp increase in money-market rates, forcing the People's Bank of China (PBOC) to tighten liquidity by withdrawing cash from the system.
The developments brought back memories of June's credit crisis, and had weighed down on Asian stocks on 25 October.
Elsewhere, in Australia, the benchmark S&P ASX 200 struck a fresh five-year high on 28 October, boosted by financial stocks.
Tim Radford, global analyst at Rivkin Securities said in a note to clients: "A vacuum of negative news and a reduction in near-term headline risk is helping to support global risk assets, seeing US and Australian equity markets trade to new all-time highs and multi-year highs respectively".
"The market will however shift its attention to the FOMC meeting early Thursday morning, with expectations firmly for the U.S. Federal Reserve to maintain asset purchases at $85bn a month. Given the weakening nature of the US economic recovery and subdued jobs growth there are now calls the Federal Reserve might be inclined to increase asset purchases rather than reduce in the near future," Radford said.
"The recent run higher in equity markets globally is again looking overdone, and a moderate pullback should be expected in the coming days, presenting another buying opportunity for investors," he added.
Most Asian stock markets finished the week ended 26 October lower but India's Sensex and Australia's ASX bucked the trend to finish higher.
Wall Street Up
On Wall Street, indices ended higher on 25 October on the back of positive earnings updates. The Nasdaq struck a new 13-year high and the S&P 500 finished at a record high at the week's close.
The Dow finished 61.07 points higher at 15,570.28.
The S&P 500 closed 7.70 points higher at 1,759.77 while the Nasdaq ended 14.40 points higher at 3,943.36.
For the week ended 26 October, the Dow jumped 1.11%, the S&P 500 moved up 0.88% and the Nasdaq gained 0.74%.
Company Stock Movements
In Sydney, banking major Australia and New Zealand bank added 2%.
The country's largest investment bank Macquarie added 1.5% as it prepared to boost its fledgling residential mortgage lending business.
Commonwealth Bank of Australia and National Australia Bank added over 1% ahead of the release of earnings updates later in the week.
Anglo American miner Rio Tinto added 1% after it inked a $1bn deal to sell its 50.1% stake in its Clermont Mine to GS Coal, a firm jointly owned by Glencore Xstrata and Japan's Sumitomo.
In Tokyo, KDDI jumped 2.2% after a Nikkei newspaper report said the mobile carrier could report a 50% annual increase in first half group operating profit.
Mizuho Financial Group rose 1.5% after media reports over the weekend said that its banking division would reprimand 54 current and former staff for failing to take responsibility for loans doled out to organised crime.
Steel maker JFE Holdings lost 1.3% after it left its full-year profit outlook unchanged.
TDK shed 0.5% after a Nikkei newspaper report said that the electronics-component manufacturer would report an 8% increase in first half operating profit.
In Mumbai, Hindustan Unilever shot up 4.2% in early trade after the firm reported a 5% increase in sales volumes for the July-September quarter.
Automaker Maruti Suzuki India inched up 0.75% in early trade ahead of the release of its earnings update.
In Shanghai, China Construction Bank inched up 0.2%. The lender reported a 9.4% year-on-year increase in third net quarter profit, which was below market expectations.
In Hong Kong, China Life Insurance, the country's largest life insurer by premiums, shot up 2.2% after it announced that it had raked in a 7.5bn yuan ($1.2bn) profit in the third quarter, reversing a 2.2bn yuan loss in the same period a year ago.
China Construction Bank moved up 0.9%.
Chong Hing Bank tanked 7.5% after Chinese conglomerate Yuexiu Enterprises said on 25 October that it would purchase a majority stake in the Hong Kong lender for $1.5bn.
In Seoul, index heavyweight Samsung Electronics and Hyundai Motor gained over 2%.
SK Hynix jumped 1.5% ahead of the release of its third-quarter earnings update on 29 October.
KB Financial lost 1% even after it reported a 5.1% annual increase in third quarter operating profit.