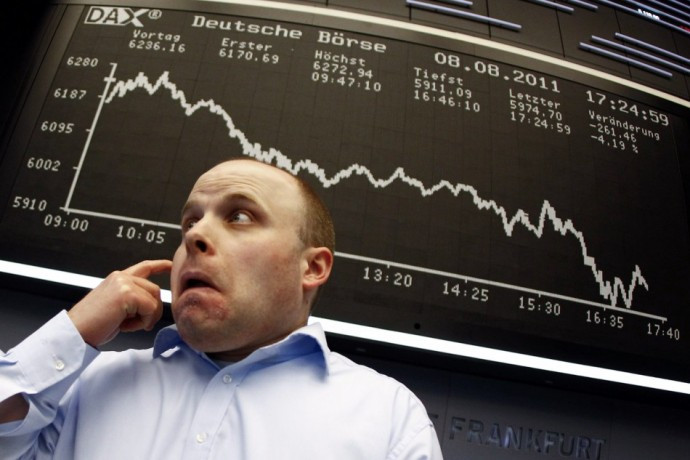 European markets opened lower on 30 September as Italy's political instability and concerns surrounding an impending shutdown of the US government weighed on investor sentiment.
The Stoxx Europe 600 index opened 0.8% lower to 309.85.
Britain's FTSE 100 opened 1.1% lower.
Germany's DAX 30 and France's CAC 40 opened 1.2% lower.
Italy's FTSE MIB was trading 1.89% lower.
Spain's IBEX 35 was trading 1.14% lower.
The US Congress has just one day to decide how to continue funding the government beyond 30 September, and market players hope that a last-minute deal will be reached. In 2011, the first US debt ceiling crisis was resolved at the very last minute.
On 27 September, the Senate approved an emergency-funding measure to keep the government running until 15 November. Congress will have to vote on that measure before 1 October.
A potential government shutdown will not impact national security-related functions.
However, it could cut funds to school lunch schemes targeting poor children, delay pay cheques to military personnel, impact foreign embassy operations, compel museums to close and cripple essential services like air traffic control and food inspection.
It could also force 800,000 federal employees to take unpaid leave and disrupt the flow of economic data from government agencies. The US Labor Department is expected to release the crucial nonfarm payroll numbers at the end of the week.
Market participants in Europe will be tracking political developments in Italy, which is in chaos after convicted politician Silvio Berlusconi's center-right party withdrew its support to the coalition government.
Prime Minister Enrico Letta is expected to seek a vote of confidence on 2 October, after Berlusconi ordered his ministers to quit the Letta cabinet over the weekend.
In Asia and the US
In Asia, the Japanese Nikkei finished 2.06% lower on 30 September. Australia's S&P/ASX closed 1.66% lower while South Korea's Kospi ended 0.74% lower.
Earlier in Asia, markets outside Shanghai traded lower, pulled down by lower-than-expected China factory activity data and on fears of an imminent shutdown of the US government.
In China, the final reading on HSBC's gauge of the country's manufacturing activity came in at 50.2 for the month of September, lower than the initial reading of 51.2.
Lower-than-expected China purchasing managers' index (PMI) data weighed on investor sentiment across the region.
On Wall Street, indices ended lower as US government shutdown fears weighed on the markets.
The Dow finished 70.06 points lower at 15,258.24, pulled down by Cisco and IBM.
The S&P 500 closed 6.92 points lower at 1,691.75 while the Nasdaq ended 5.83 points lower at 3,781.59.
For the week ended 28 September, the Dow lost 1.25% and the S&P 500 lost 1.06%. However, the Nasdaq inched up 0.18%.