Stratasys: 3D-Printing Will Bring Manufacturing Back to Europe and US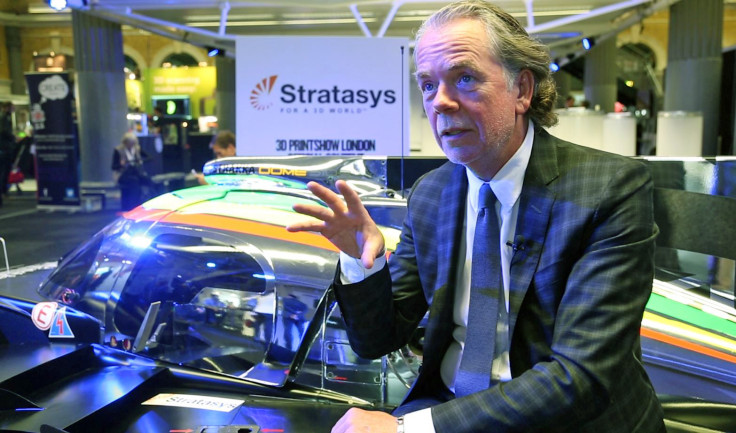 While media coverage of 3D-printing has been amping up over the last two years, some product designers have been using the technology to speed up prototyping of products for the last five to ten years.
But although there has been a presence for 3D-printing in manufacturing, it has not been a big one. However, 3D-printing company Stratasys believe it could become "extremely disruptive" and completely transform the manufacturing industry.
"In 10 years, we will be seeing the factories of the future where you will see production lines of 3D printers manufacturing 365 days a year, 24 hours a day, 7 days a week," Andy Middleton, senior vice president EMEA for Stratasys told IBTimes UK.
"We'll see factories producing end-user parts and end-user products in various locations around a certain geography, so instead of centralised product development and distribution, we will have centralised product development and distributed manufacturing."
In fact, Stratasys think 3D-printing could be the key to bringing the manufacturing industry back home, as additive manufacturing where parts can be put together could make the production process simpler.
Middleton said: "Both in the EU and the US, there is now a massive push into alternative methods of manufacturing technologies, to pull the manufacturing back to Europe and the US. There's hundreds of millions of dollars going into research and we're involved in that, to help us cost-effectively bring manufacturing back [from China]."
The reason 3D-printing could make such a difference in manufacturing is that more and more companies are starting to realise the benefits of using it during the rapid prototyping stage.
From cutting costs on materials to greatly decreasing the development time, 3D printers are able to produce a finished product in a much shorter amount of time, rather than making it from scratch.
"Seventy percent of sales in the MakerBot business go into companies, not consumer. For initial product verification, [3D printing] is fast, cheap and it gives an initial look and feel," said Middleton.
"The professional consumer, what I call the 'prosumer', because of knowledge, skills or level of interest, this segment of the market will grow very quickly, but the average guy at home with the family, I think that's going to take a lot longer."
In the meantime, Middleton thinks 3D-printing for consumers is likely to become more prevalent if they have a place they can go to where they can print out creations, rather than owning the machines themselves, like MakersCafe, the UK's first 3D-printing cafe, which opened in east London in August.
"It's not going to be as fast as people think. I think you will get more service bureaus opening up in towns, where the consumer can take the file from the web, modify it and then send it to a service provider down the road, much like the copy shops of yesteryear - only they will be 3D-print shops," said Middleton.
"Over the next five years, consumer 3D-printing will see moderate growth. It will be driven by ease of use product design software. Simplification of the software and the design is what's really going to help make the consumer part of the business flourish."
© Copyright IBTimes 2023. All rights reserved.