A new study claims that reading EL James' Fifty Shades of Grey trilogy could have a dramatic effect on the personalities of young women.
Researchers say young adult women who have read the book are more likely to have a verbally abusive partner with stalker traits and eating disorders than non-readers.
The study also found women who have read the series are more likely to indulge in binge drinking and have multiple sex partners, Daily Mail reports.
These findings are the result of a study undertaken by researchers at Michigan State University. Amy Bonomi, the researcher behind the study, said "it's possible the books influenced the onset of these behaviors".
"All are known risks associated with being in an abusive relationship, much like the lead character, Anastasia, is in Fifty Shades," said Bonomi.
The study did not record whether participants engaged in the "unhealthy" behaviour before or after reading the erotic bestsellers.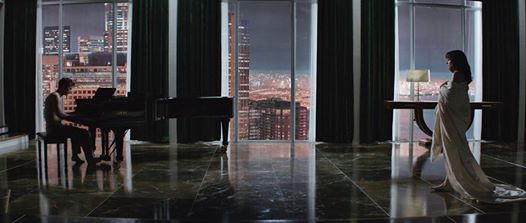 The study, which appeared in the Journal of Women's Health, involved over 650 women in the 18-24 age bracket.
Young female readers of Fifty Shades of Grey novel are 34% more likely than women who have not read it to to be involved in a romantic relationship with a person who could become a stalker, 25% more likely to have been yelled at by a lover, and 75% more likely to have used some diet aid or fasted for at least 24 hours.
The study also claims those who have read all three books in the series are 65% more likely to binge drink (drink five or more alcoholic drinks on a single occasion on six or more days per month) and 63% more likely to have five or more sexual partners during their lifetime.
"If women experienced adverse health behaviors such as disordered eating first, reading Fifty Shades might reaffirm those experiences and potentially aggravate related trauma," the Michigan State human development professor added.
The Fifty Shades of Grey movie is set to release on Valentine's Day 2015. The movie stars Dakota Johnson and Jamie Dornan playing Anastasia Steele and Christian Grey.