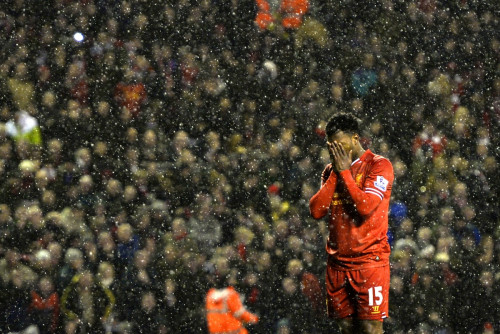 Daniel Sturridge has admitted that Luis Suarez was furious when he missed his penalty for Liverpool against Everton with the striker insisting the win was about the team rather than his own performance.
Sturridge had a night of mixed fortune for the Reds with the England international scoring twice to help the side to a 4-0 win, but after he missed the penalty the hitman cut a different figure, loudly complaining as he was substituted by Brendan Rodgers later on.
He has since apologised for the strop and Sturridge has now revealed that he wasn't the only one angry for missing the penalty that would have capped an emphatic win over their local rivals.
"When I missed that chance Luis was obviously fuming with me at the time, and I don't blame him, I think everyone was fuming with me," Sturridge told the Liverpool Echo.
"I was fuming with myself too.
"You could see I was still disappointed when I came off because obviously I was also disappointed with missing a penalty at the Kop end.
"But really the most important thing was the game and the result, and in the end everyone was happy with that."
Sturridge has been on fire for Liverpool this season, scoring 16 goals in 18 appearances for the club so far. And the 24 year old says he is only thinking about the team who are currently in the mix for Champions League qualification and solidified their place further with the win over Everton.
"It was fantastic for the boys," he said of the 4-0 thrashing. "We wanted to put on a performance for the fans, for the team, for everyone and obviously we're delighted with it.
"Of course I am a bit disappointed not to score a hat-trick because that really would have been the icing on the cake.
"But at the same time we have won 4-0 at home against Everton, so really I can't be too down on myself.
"It's a massive three points, it's massive for the fans, who get the bragging rights now and that's what it is all about.
"At the end of the day it's just all about the team. I keep saying it but it really is a case of the team being all important. If we do that, if we work that way, we will get the results."