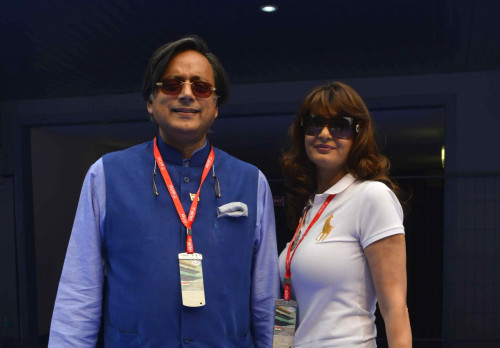 Doctors who conducted a post-mortem on Sunanda Pushkar's body, the wife of Indian politician Shashi Tharoor, have failed to reach any conclusion on the cause of her death, although the preliminary autopsy report says it was an "unnatural sudden death" and there were injuries on her body.
"The samples for toxicological analysis have ruled out any poison. This is a case of unnatural sudden death. There were certain injuries on the body. The nature of these injuries cannot be revealed," said Sudhir Gupta, the chief of the three-doctor team which conducted the post-mortem.
Pushkar, 52, was found dead in Hotel Leela in New Delhi following a bitter controversy surrounding her accusation of an affair between Tharoor and Pakistani journalist Mehr Tarar.
The entire post-mortem has been filmed and photographed to ensure transparency in the process. The final autopsy report will be out in the coming days, said the doctors.
After the medical analysis at the All India Institute of Medical Sciences (AIIMS) in Delhi, Pushkar's body has been taken to her residence, where her friends and relatives will pay their final respects.
Her funeral will take place at about 17:30 local time.
Shortly after the news of Pushkar's death surfaced, Tharoor, federal junior minister for human resources development, was admitted to the same medical facility for chest pain.
He was later discharged from the hospital after the doctors determined that his condition was stable.
Police are expected to question Tharoor once Pushkar's funeral is over after duly considering his medical condition.
Meanwhile, Pushkar's relatives have called for a probe by India's top investigative body, the Central Bureau of Investigation (CBI).
Speaking to the Indian television channel IBN7, her cousin Sanjay Pandita said: "Except migraine, she had no other major ailment. It is true that she was quite disturbed over what was happening in her life recently."
"We have seen her fight for survival. She used to say that I am not her cousin, I am her son. We demand that a CBI inquiry should be ordered into her death. She wanted to help her relatives. We are all shocked."
Pushkar and Tharoor married in 2010. It was the third marriage for both.