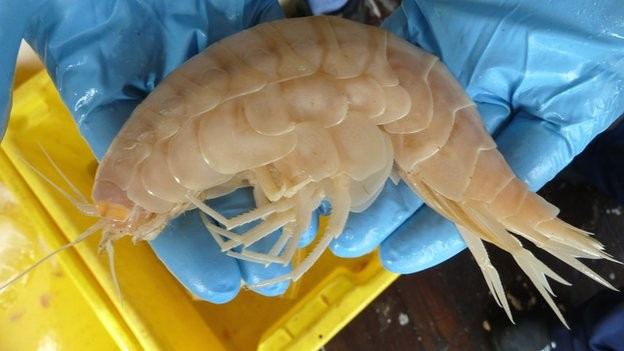 A 'supergiant' species of crustacean has been found four miles below sea level in the waters off the coast of New Zealand.
The huge sea creature is a type of amphipod which are usually 2-3cm long, but this specimen is over 10 times the size, measuring in at 34cm.
Alan Jamieson, from the University of Aberdeen's Oceanlab, explained the significance of the finding: "It's a bit like finding a foot-long cockroach."
"I stopped and thought: 'What on Earth was that?' This amphipod was far bigger than I ever thought possible."
The species - amongst others - were caught using a large metal trap which had a camera fixed inside and housed in glass.
Dr Ashley Rowden, from Niwa, said: "It just goes to show that the more you look, the more you find.
"For such a large and conspicuous animal to go unnoticed for so long is just testament to how little we know about life in New Zealand's most deep and unique habitat."
The ocean trenches in which these species were found were once thought to be void of any life and the pressure, darkness and freezing temperatures were uninhabitable.
The researchers have discovered multiple species living in these areas recently such as the snailfish and isopods.