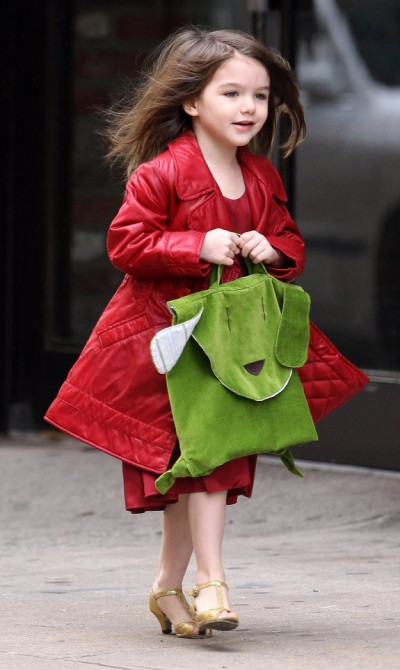 Suri Cruise has been named the Most Stylish Kid of the Year, in a poll conducted by British family gifts Website Twisted Twee, the Toronto Sun reported. The organisers of the poll were reportedly impressed with the six year old girl's wardrobe and dress choices.
Suri's mother, Hollywood star Katie Holmes, was quoted in an interview with InStyle last year, as saying her daughter was completely independent when it came to fashion.
"I do not dress her. She dresses herself! Obviously, I buy her clothes, but she is the one who puts her outfits together. In fact, she helps me. If she likes something of mine, I know it's good," the former Dawson's Creek star said. The 33 year old actress even admitted her daughter was sometimes her fashion inspiration, the Metro reported.
Suri and her multi-million dollar wardrobe outshone Blue Ivy Carter, singer Beyonce Knowles and rapper Jay-Z's six month old daughter, who was recently spotted with her mother, wearing pink pants and a floral top. Blue Ivy's collection of shoes alone is estimated to be worth £12,400 - enough reason to be on the list!
Meanwhile, another actor couple's daughter, Willow Smith, 11 (Will Smith and Jada Pinkett Smith's daughter), came third and four year old Harlow Madden, daughter of Nicole Richie and Joel Madden was fourth. David and Victoria Beckham's one year old daughter, Harper Seven, was fifth.
"Aliens and pocket-sized papas haven't hindered Suri in becoming the world's most stylish sprog. She was head and tiny shoulders above all over the other celeb children in our poll," the Web site's owner, Suzi Warren, was quoted as saying by Yahoo.
"Although, we were alarmed by how low down Posh's wee sprog came in our poll. She's incapable of smiling at the best of times, so we dread to see the look on Victoria's face when she hears about our nationwide findings," she added.
Click Start to see the slideshow of the most fashionable celebrity kids and parents in the world...