Around 100 Coptic Christian families have reportedly fled Egypt's North Sinai province following deadly sectarian attacks suspected to be by the Islamic State (Isis) militants.
The surge in the number of people leaving their homes came after jihadists killed a seventh member of the community on Friday (24 February).
The strings of killings have raised accusations that the Egyptian government is failing to protect the minority Christian community.
A Reuters reporter witnessed around 25 families with their belongings gathered at Ismailia's Evangelical Church in the Suez Canal city. But the church officials confirmed that there were about 100 families who were fleeing North Sinai.
"They've come running with their children. It's a very difficult situation. We're expecting 50 or 60 more," deacon Nabil Shukrallah told the AFP news agency.
Besides, more than 200 students studying in the province's capital, Arish, have also fled the place.
According to media reports, between 30 January and 23 February, seven Christians have been killed. Five of the victims were shot, while one was beheaded and the other person was set on fire.
It is thought that there are around 160 Copts in the region and they make up about 10% of Egypt's 90 million population. Sectarian attacks often occur in the country, and are usually confined to crop razing, home burning, attacks on churches and forced displacement.
The Coptic Church, which has strongly condemned the attacks, said the killings were aimed at "dividing" Egyptians, BBC reported.
Arish residents said they have been receiving death threats from the militants, who have been circulating death lists online and on the streets. The Islamists reportedly want Christians to leave Sinai or die.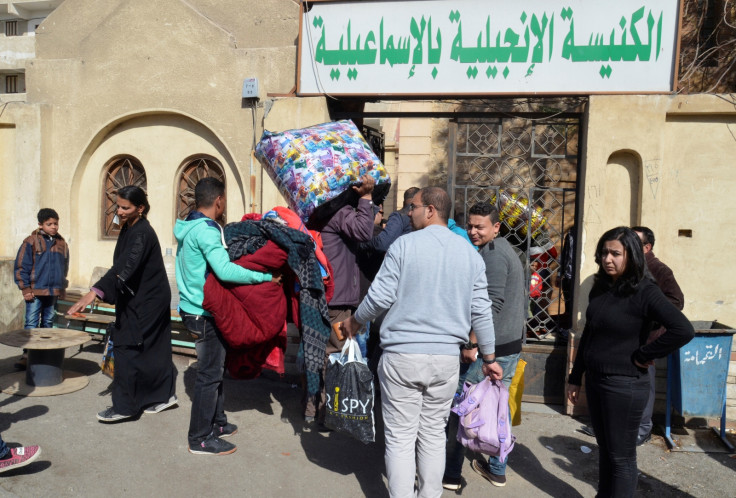 Those who have fled the area said they were now scared of their own shadows as they feel they were "being targeted in an ugly way".
On 19 February, the Isis militants released a video and warned of more such attacks on the country's minority Christians.
In reference to the killings, President Abdel Fattah al-Sisi ordered military and police chiefs on Thursday (23 February) "to completely eradicate terrorism in northern Sinai and defeat any attempts to target civilians or to undermine the unity of the national fabric."
While the country's armed forces said they are capable of handling the "crisis", Sinai Christians have criticised the government of failing to protect them.
Earlier in December, the jihadists bombed a chapel near Cairo's St Mark's Cathedral, the seat of the Coptic papacy, killing at least 25 people.