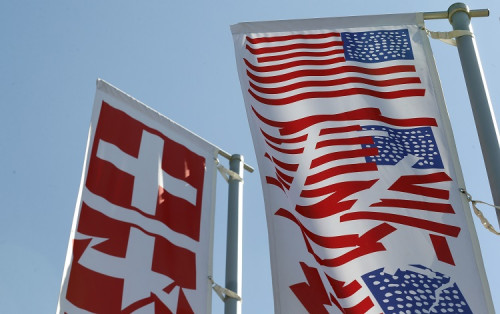 Swiss banks under pressure from US authorities to come clean about their hidden tax affairs, have also been called on by regulators at home to make provision for imminent penalties.
Basler Kantonalbank, the state-backed lender said it had set aside 100 million Swiss francs ($112 million) to deal with expected legal costs and fines resulting from the US Justice Department's investigation.
Basler Kantonalbank said in a statement the Swiss Financial Market Supervisory Authority (FINMA) had encouraged it to set aside the funds.
Credit Suisse had previously said it was setting aside 295m Swiss francs to deal with US probes into its hidden accounts. Other banks under investigation include Julius Baer and Bank Frey.
The Swiss government has participated in systematic disclosure of its once inviolable banking secrecy laws.
Following extensive probes by the US Justice Department and the IRS, many Swiss banks are joining a special disclosure programme which promises non-prosecution agreements for cooperating in most cases.
According to the disclosure programme banks are split into categories. Those banks currently under criminal investigation, such as Credit Suisse and Julius Baer are known as category one, and are not eligible to join the programme.
Category two banks may have reason to believe they have committed tax offenses. These banks may face fines equal to 50% of the value of undisclosed US clients' accounts, but may also receive non-prosecution agreements.
Some of the banks that have signed up for category two include Linth Bank, Coop Bank, Walliser Kantonalbank and Hypothekarbank Lenzburg.
Banks participating in categories three and four of the program will present evidence to demonstrate they have not helped Americans evade taxes.
The program skates across the legal imperative of Switzerland's banking secrecy law; it does not require the banks to disclose client names but the data provided could help US authorities identify individual account holders.
A number of regional Swiss banks have agreed to join the programme, including Banque Cantonale Vaudoise (BCV), Banque Cantonale de Geneve (BCGE), St. Galler Kantonalbank, Zuger Kantonalbank, Luzerner Kantonalbank and Graubuendner Kantonalbank.
BCV's subsidiary Piquet Galland & Cie SA and St. Galler KB's subsidiaries Hyposwiss Privatbank Zurich AG and Hyposwiss Private Bank Geneve SA were also joining the deal.
The deadline falls at the end of this month to commit to the program for Switzerland's roughly 300 category two banks that have US accounts and may face penalties.