Update: SXSW press office has responded to say there is "no truth to that claim. This is the first we've heard about it."
A post on the gossip app Secret claims the Irish-based Web Summit will be bought by US festival South by Southwest (SXSW) for up to $48 million (£28.2m)
The post on Secret simply says: "Web Summit is about to be bought by SXSW" but comments on the post from others seem to confirm the rumour with some claiming the sale will be for up to $48m and will be announced as soon as this week.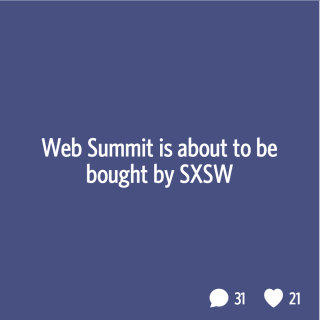 Web Summit (now simply known as The Summit) is a Dublin-based technology conference which has grown hugely in popularity since the original Summit in 2010.
South by Southwest (or SXSW as it is better known) is a set of film, interactive and music festivals and conferences which take place annually in Austin, Texas and which first took place in 1987.
While some commenters on the Secret post claim the fee is as high as $48m, another says that it is not that high, and will be somewhere in the region of $20m-$30m with an announcement about the deal set to come later this week or early next week.
Founders
Web Summit was co-founded by Paddy Cosgrave and has grown quickly into Europe's largest technology conference, attracting a lot of recognisable people within the industry. Cosgrave also founded the high profile F.ounders conference - dubbed "Davos for Geeks" - and together the companies behind the conferences returned profits of over €600,000 (£475,000) last year.
The first staging of The Summit in 2010 was little more than a gathering of 500 members of Ireland's growing technology community, but by 2013, The Summit had grown to attract over 10,000 attendees from 97 countries. The 2014 event is expected to attract 20,000 attendees, which makes interest from other companies not unlikely.
IBTimes UK has contacted Cosgrave for comment on the rumour but have so far not received a response.
The anonymous social network Secret gained fame in Silicon Valley for sharing industry gossip before launching in the UK, Ireland and Australia in April. The app features a lot of anonymous soul-searching along with industry gossip - with a lot of stories breaking on Secret before being confirm at a later date.
Secret - which is available for iOS and Android - lets you share text or images with the wider social network without revealing who wrote each update.