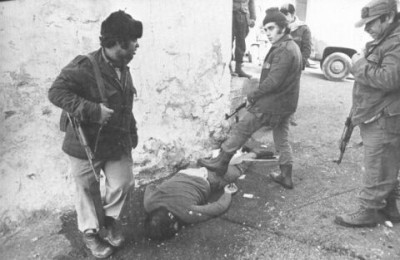 Thirty years after the Hama massacre, the Syrian regime continues to hit government opponents ruthlessly - but rights groups have claimed that children are increasingly the victims.
On the day inhabitants of Hama chose to mark the anniversary of the massacre of 30,000 anti-government protesters, rights groups said the regime was actively targeting children as young as 13.
"Children have not been spared the horror of Syria's crackdown," said Lois Whitman, children's rights director at the New York-based Human Rights Watch.
"Syrian security forces have killed, arrested and tortured children in their homes, their schools or on the streets. In many cases, security forces have targeted children just as they have targeted adults."
The report cited the case of a 16-year-old boy, referred to as Alaa, from the town of Tal Kalakh near the Lebanese border who said he was detained for eight months and tortured a number of times.
"They beat me for about two hours with cables and shocked me with cattle prods. Then they threw water on the ground and poured water on me from above," he said.
While the Syrian regime had been accused of brutal repression and torture long before the uprising started 11 months ago, it had refrained from actively targeting and torturing children.
One anti-government protester has been reported killed as demonstrators gathered in Hama to mark the February 1982 massacre when the Syrian regime, under Hafez al-Assad, killed 10,000 protesters in a once-and-for-all attempt at crushing dissent.
Opposition activists said security forces shot at least one person dead while they broke up demonstrations in the Janoub al-Malaab district of Hama.
Residents had planned to release 1,000 red balloons to mark the anniversary's massacre.
Anti-regime rallies were not limited to Hama as protests were being organised across the country under the banner "Hama forgive us".
Activists also reported the death of at least four people in Idlib province, including children.
In Damascus, two people have been killed in gunfire, according to reports.