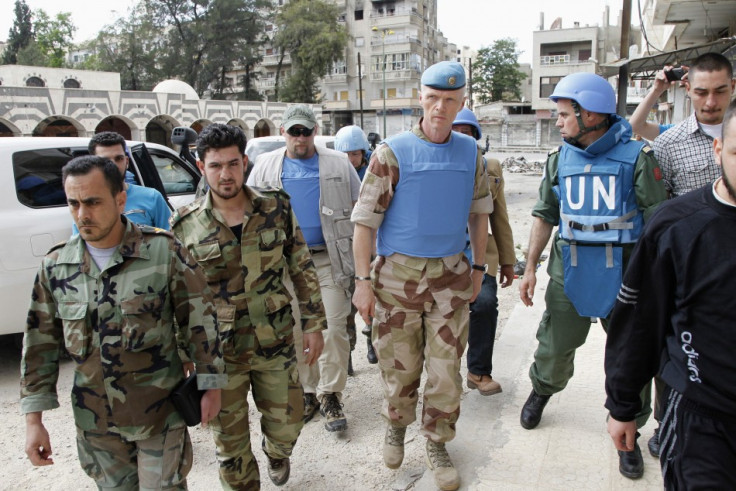 More gory pictures of the Hama massacre in Syria are emerging. UN monitors probing the slaughter found pools of blood and blood- spattered rooms in several houses. Based on a preliminary investigation, the observers confirmed the mass killings of innocent men, women and children.
"There were pools of blood and blood spatters in rooms of several homes together with bullet cases. On the basis of this preliminary mission, UN Supervision Mission in Syria (UNSMIS) can confirm that an attack, using a variety of weapons, took place," said a spokesperson of the UN observers team.
Pro-regime forces were believed to have used helicopters and tanks before carrying out execution-style killings. The observers' team also confirmed the use of artillery, mortar and small arms during the attack.
The team said the attack appeared to have been aimed at specific rebel groups in the region targeting houses of army defectors and activists. UN monitors will resume their probe later on Sunday.
"UNSMIS is deeply concerned about the escalating level of violence in Syria and calls on the government to cease the use of heavy weapons on population centres and on the parties to put down their weapons and choose the path of non-violence for the welfare of the Syrian people who have suffered enough," said the spokesperson in a statement.
The massacre has been condemned in strongest terms by leaders across the globe.
As the Hama massacre draws the world's attention, other parts of Syria are bleeding from violence. The BBC, citing the Syrian Observatory for Human Rights' figures, said 118 people were killed on Friday and 28 were killed on Saturday across the country.
Syrian government denial
On Sunday, the Syrian regime refuted the UN observers' findings, claiming that it was a confrontation with armed groups and not a massacre by government forces.
Addressing a press conference, Syrian foreign ministry spokesperson Jihad Makdissi said the toll was just 37 and not 220 as is being widely claimed.