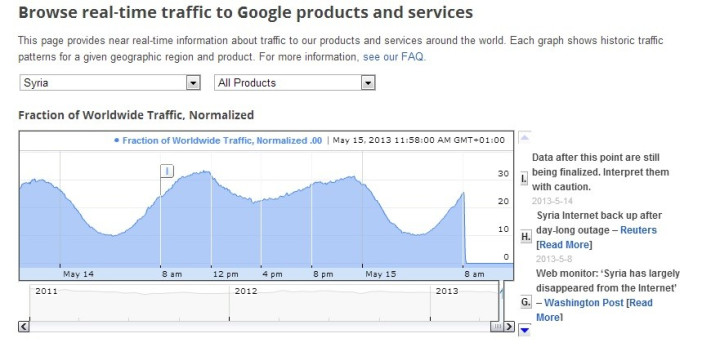 Traffic between Syria and Western online services has been shutdown for the second time in a week, according to US web tracking firm.
"Syrian Internet offline again 07:01 UTC / 10:00 am local," Renesys said on its Twitter account.
It is believed the blackout relates to the UN general assembly's expected approval of an Arab-backed resolution calling for a political transition in Syria.
Google confirmed the Internet cut on its Transparency report.
Phone lines into Damascus from other countries were also not working.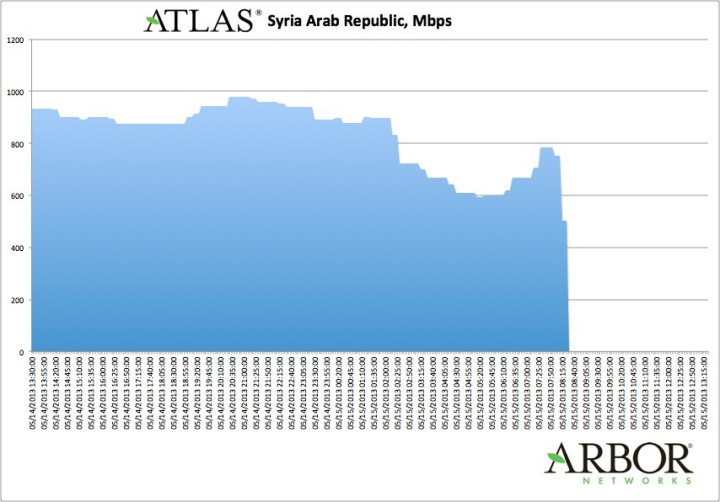 Syrian government websites, including the SANA state news agency, were also down. SANA reported on its Twitter account that it was suffering a "technical problem" and was working to fix it.
Last week, all traffic between Syria and Western online services was cut since and Google reported that it was completely inaccessible.
Dan Hubbard, chief technology officer of Umbrella Security Labs said they noticed a significant drop in traffic from 6.45pm GMT last night, but "On closer inspection, it seems Syria has largely disappeared from the Internet."
This is the third time in the last seven months that has been cut off from the internet, with most observers blaming the government for the previous two-day blackout in November, as it sought to prevent opposition manoeuvres
However the government said that blackout was the result of "terrorist activities" with saboteurs blamed for cutting underground cables. The Assad regime in Syria has said nothing officially about the latest outage and it is likely another attempt to hinder the activities of activists.
UPDATE 5pm Internet has returned in Syria after an 8-hour outage.