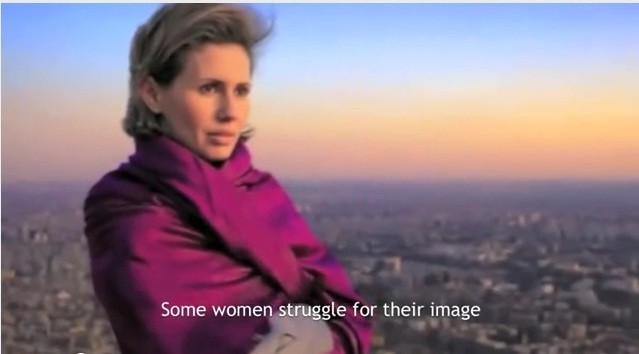 The wives of UN ambassadors from Britain and Germany have released a video calling on Syria's first lady, Asma al-Assad, to stop her husband's violent crackdown on the opposition and plead for peace.
The video asks viewers to sign a petition at www.change.org, demanding the London-born first lady "speak out for peace and stop the bloodshed".
The footage contrasts images of Mrs Assad's lavish lifestyle against images of Syrians fleeing the violence and of those injured and killed as a result of the crackdown, including images of children, which has led to UN calls for more monitors to be deployed in Syria.
"Some women struggle for their image and some women struggle for survival," it states.
The four-minute video shows the first lady preaching peace in past discourses and asks, "What happened to you, Asma?"
"Stand up for peace, Asma. Speak out now. For the sake of your people. Stop your husband," the video pleads. "Stop being a bystander. No one cares about your image. We care about your action."
The video was produced by Sheila Lyall Grant, wife of Britain's UN ambassador Sir Mark Lyall Grant, and Huberta von Voss-Wittig, wife of Germany's UN ambassador Peter Wittig.
The two women said in a letter accompanying the video that Asma, who once championed women's equality and children rights, could not continue to "hide behind her husband".
"We are asking Asma Assad to take a risk, too, and to say openly: stop the bloodshed, stop it right now," Voss-Wittig and Lyall Grant said.
On International's Women Day last month, Amnesty International also called Mrs Assad to take a stand and condemn the regime's human rights violations taking place in Syria.
Activist Publishes Open Letter to Syria's First Lady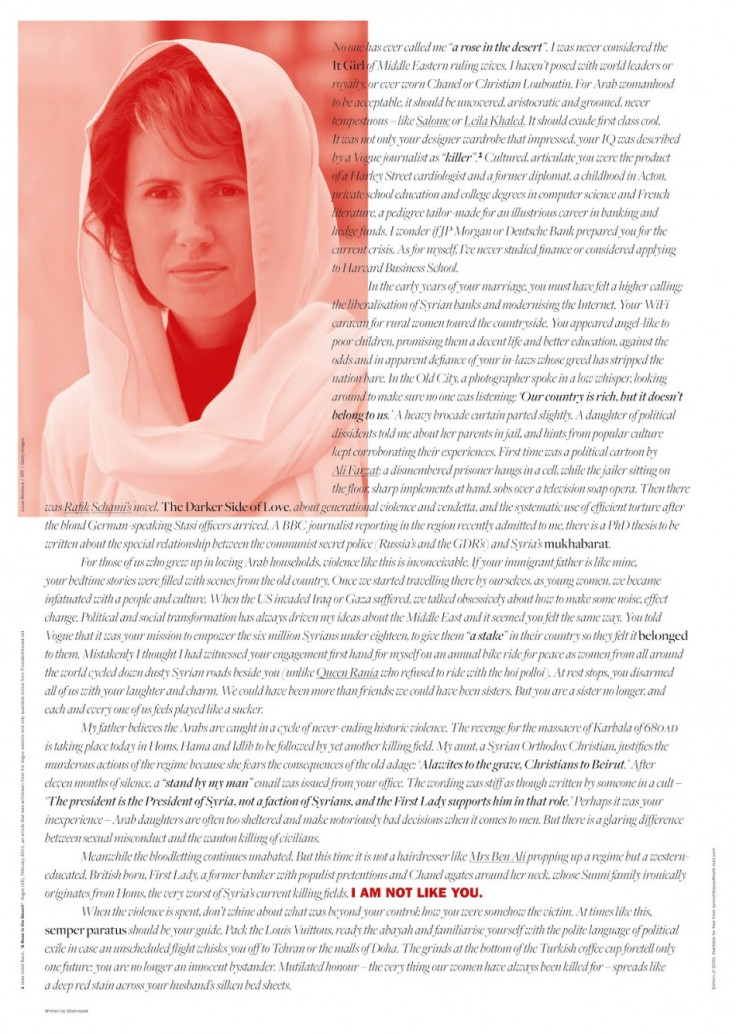 A London-based writer of Middle Eastern origin, who uses the pseudonym Shahrazad, has designed a poster expressing her anger over the Syrian first lady's silence.
The author, who once participated in a bike ride for peace along with the first lady, wrote on the poster: "We could have been more than friends; we could have been sisters. But you are a sister no longer."
"Meanwhile, the bloodletting continues unabated," the poster said. "But this time it is not a hairdresser like Mrs Ben Ali [wife of former Tunisian president Zine El Abidine Ben Ali] propping up a regime but a western-educated, British born first lady, a former banker with populist pretensions and Chanel agates round her neck, whose Sunni family, iornically, originates from Homs, the very worst of Syria's killing fields."
According to Shahrazad, Mrs Assad's office issued an e-mail responding to critics who asked her to stand up to her husband. It allegedly said: "The president is the president of Syria, not a faction of Syrians and the first lady supports him in that role."
Born and raised in London, Mrs Assad married the Syrian head of state in 2000, the year he was installed as president.
Once seen as a defender of women and human rights, the former investment banker has been increasingly criticised for standing by her husband throughout the government-led crackdown on protesters and opposition members.
While there had been rumours that she was being held as a virtual prisoner by Assad and his regime, leaked e-mails showed that, in the midst of the violence, the first lady was busy buying thousands of dollars worth of luxury products.