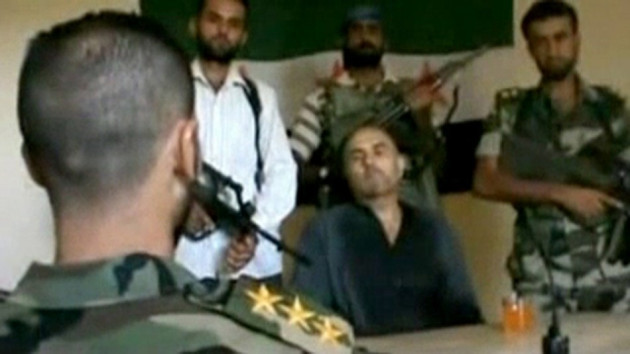 Syrian rebels claim to have shot down a government MiG fighter jet and captured its pilot.
A video posted on YouTube shows a fighter jet in flames falling from the sky over the town of Mohassen, around 120km (75 miles) from the Iraqi border in the eastern province of Deir al-Zour.
In the same video, the rebel groups, who identify themselves as "the revolutionary youth of the land of the Euphrates", parade a man they claim to be the pilot of the Russian-made MiG 23.
The man gives his name as Col Fareer Mohammed Suleiman, amd says: "My mission was to bomb the town of Mohassen.
"The wounds on my face were caused by the strong wind that forced me on to stones after I ejected from my plane. The revolutionaries have treated me well and they gave me first aid assistance. They are good people," the man said.
Another man, who identifies himself as the chief of the Descendants of Mohammed Brigade, tells viewers that the captive will be treated according to "religious ethics and the Geneva Convention".
Contrasting claims
If the claims of the Free Syrian Army fighters turn out to be true, it is the first time the rebels have downed a jet belonging to the government since the uprising against President Bashar al-Assad began last February. However, the video has yet to be independently verified.
Syria's state news agency Sana confirmed the government has lost a jet, adding that the pilot ejected before the plane crashed.
However, Sana claims the jet was on a training mission and crashed due to a "mechanical problem".
Meanwhile, Syria is to be suspended from the Organisation of Islamic Cooperation (OIC), according to a Reuters report.
"The session just ended. The ministers adopted the resolutions, including the suspension of Syria," a source told Reuters.