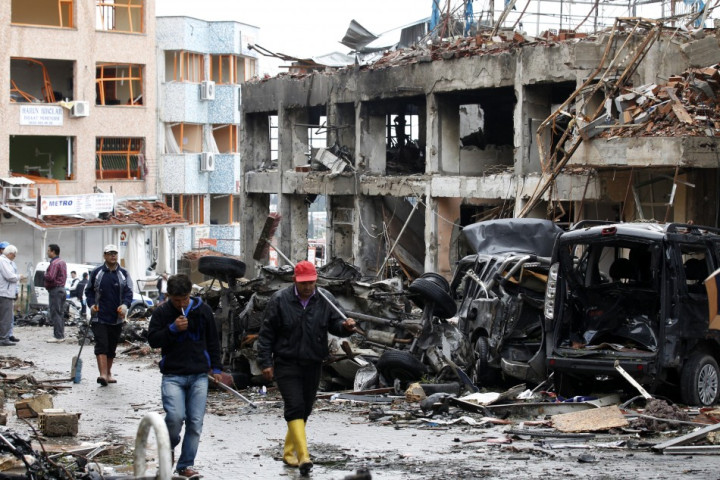 Ankara is blaming President Bashar al-Assad's regime for the recent car bombings that have killed at least 43 people in the Turkish town in the border near Syria.
Turkish Foreign Minister Ahmet Davutoglu has pledged that his country "would take all necessary measures".
At least 43 people have died in Reyhanli, which is home to scores of Syrian refugees. The refugees appear to be the target of blasts, according to local reports.
Official reports say there were two cars filled with explosives. However, unconfirmed reports indicate there were multiple explosions.
Ankara authorities have pointed an accusing finger at Assad's forces.
"Bashar al-Assad with his Mukhabarat is the usual suspect in planning and carrying out such an attack. If it is proven that al-Assad is responsible [for the attack], we will do what is necessary," said Turkish Deputy Prime Minister Bulent Arinc.
Besir Atalay, another deputy prime minister, said initial reports indicate local groups with ties to Assad's regime were responsible for the bombings.
"My children were so scared because it reminded them of the bombings when we were in Aleppo. God help us," one mother of three told Reuters.
No group has so far claimed responsibility for the attack, and Damascus has not issued any comment.
Turkey has been supporting Syrian rebels in their fight against Assad. Syria's relationship with Turkey, a friend-turned-foe, hit a new low when a Turkish fighter jet was allegedly shot down by Damascus, killing two pilots.
"At a time of such a critical transition period as far as the developments in Syria, certain provocations may come up. Peace and stability of the Turkish Republic and our citizens have priority more than anything else. We call on our citizens to be careful against certain provocations. Today's blasts will be investigated in full length," said Davutoglu, who is in Berlin.
The US and the UN have condemned the latest explosions and pledged support for Turkey.
"The Secretary-General condemns all acts of terrorism and reiterates that no cause or grievance ever justifies the targeting of civilians," said UN chief's spokesperson.