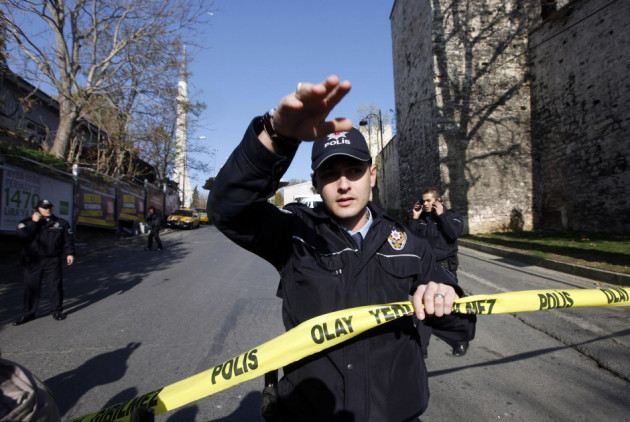 The shooter that opened fire in central Istanbul wounding two people has been killed by security forces, according to Turkish media.
It came as Turkey's foreign minister Ahmet Davutoglu has announced a series of economic sanctions against Syria due to its military clampdown on the insurgent population.
The man, who has been identified as a 36 year old Libyan with a vehicle that had a Syrian licence plate, threatened the soldier on duty at the Topkapi Palace, the former residence of the Ottoman sultans. Witnesses quoted by Turkey's NTV television said they heard the gunman shouting that he was Syrian.
Then, he seized the soldier's arm and started shooting. He wounded a security guard and a policeman. He was killed by security forces after an hour long gunfight.
Speaking at a press conference on Wednesday morning, Davutoglu announced that Turkey, once a close friend of Damascus, will stop delivering all weapons and military equipment to Syria in a new attempt to convince President Bashar al-Assad to end the crackdown on pro-reform protesters, who have been taking the streets for eight months.
Foreign Minister Ahmet Davutoğlu said the measures will not affect the Syrian people. Davutoğlu also announced that Syrian government assets will be frozen in Turkey and Syrian government officials will be barred from entry.
"Every bullet fired every bombed mosque, has eliminated the legitimacy of the Syrian leadership and has widened the gap between us," Davutoğlu said in a news conference, quoted by daily Today's Zaman. "Syria has squandered the last chance that it was given."
He added that Syria "has entered a vicious circle of violence," despite warnings from Turkey. "Syria must immediately cease using force against the people and [military] forces must immediately withdraw from cities."
Turkey's move is just the latest step in punishing the Assad regime for its repression. The Arab League has approved sanctions Sunday to force the regime to end its violence.
The U.N. says Syrian regime has killed more than 3,500 people since March.