It was a star-studded bonanza at the CMAs 2016, which mixed tradition with some modern surprises. Hosted by Carrie Underwood and Brad Paisley at Nashville's Bridgestone Arena on 2 November, the awards ceremony celebrated the most talented and successful acts within country music over the last year.
Broadcast live on ABC, the show opened with an epic medley of performances from the likes of Reba McEntire, Clint Black, Dwight Yoakam and Randy Travis. Travis, who suffered a stroke in 2013, received a standing ovation when he sang part of his song Forever And Ever, Amen.
Underwood, 33, and Paisley, 44, then arrived onstage to deliver their opening monologue, which, of course, included references to the upcoming US presidential election on 8 November. The co-hosts, who shared the stage for the ninth year in a row, quipped: "We're so freaking sick of politics, we don't even care who wins. This election is taking forever and ever... make it end."
It was a huge night for Underwood, who won her sixth CMA for female vocalist of the year. Other notable wins include Chris Stapleton for male vocalist of the year, Thomas Rhett's Die A Happy Man claiming single of the year and Eric Church taking album of the year for Mr Misunderstood.
In case you missed all the action, IBTimes UK rounds-up other highlights from the 50th annual Country Music Association Awards.
Taylor Swift makes surprise return
She has spent the last few years dominating the pop genre with her best-selling crossover album 1989 but Swift, 26, finally returned to her country roots. The Shake It Off songstress made her first appearance at the CMAs in three years to present Garth Brooks with the entertainer of the year award.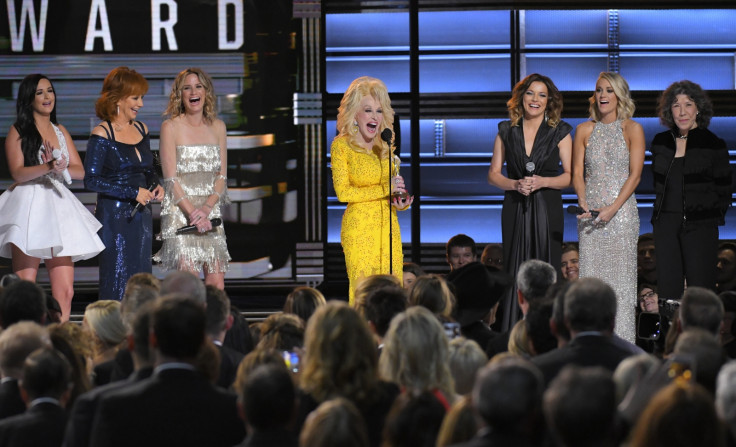 Before handing over one of the night's biggest accolades, Swift told the audience: "It's almost been 13 years since I came to Nashville to become a songwriter and recording artist and I've learned so much about what it means to be an entertainer from the remarkable artists in this arena tonight. That's one of the reasons I feel so honoured to present this award to any one of these five outstanding nominees for entertainer of the year and be apart of this historic night we will always remember."
The CMAs form a momentous part of Swift's career as she has won 11 awards to date and received 25 nominations.
Beyonce learns some Daddy Lessons
Queen Bey won critical-acclaim for her country inspired Lemonade album track Daddy Lessons so it only makes sense that she performed the song at the country music awards. The 35-year-old singer performed an even more folksier version of the reflective track with help from Dixie Chicks. Oscar-winning actor Matthew McConaughey was spotted dancing enthusiastically in the audience but not everyone appreciated Beyonce's appearance.
One viewer criticised the singer for embracing the country genre, tweeting: "I like my Beyoncé and I like my country music but I don't like them together," while another said: "Beyoncé did not steal the show. She didn't even belong with country music! #sorrynotsorry."
However, Brad Paisley jumped to the singer's defence, chiming in: "Frequently, country crosses over. But every now & then a major pop superstar wants to be a part of this too. Welcome, Beyonce."
Dolly Parton's lifetime achievement
The legend that is Dolly Parton was honoured with the prestigious Willie Nelson lifetime achievement award. Parton was presented with the award by her 9 To 5 co-star Lily Tomlin, who described the singer as "one of the greatest artists in the history of country music".
Carrie Underwood, Reba McEntire, Kacey Musgraves, Pentatonix and Jennifer Nettles banded together to perform a medley of Parton's hits, ending with her classic I Will Always Love You. Accepting the accolade, an emotional Parton said: "This is so touching. I would cry but I didn't want to mess up my eyelashes! This is an absolute high for me."
Jimmy Kimmel's Mean Tweets
This did not exactly take place at the awards ceremony but Kimmel rallied some of country music's biggest stars for a special edition of his popular segment Mean Tweets. Dolly Parton, Florida Georgia Line and Miranda Lambert were among the good sports who played along.
Performances
The CMAs were flooded with an array of stellar performances, including a duet between Garth Brooks and his wife Trisha Yearwood, Miranda Lambert who belted out Vice, Keith Urban who sang his new single Blue Ain't Your Colour, Little Big Town who performed their Taylor Swift-penned Better Man and Florida Georgia Line who teamed up with Tim McGraw for May We All.