Mila Kunis has spoken out against gender inequality in the movie industry, slamming a film producer for threatening that she'd never work in Hollywood again if she refused to pose half-naked on the cover of a men's magazine. The unnamed individual tried to get the Bad Moms actor to take part in the photoshoot to promote an upcoming film of hers but despite their protestations, a "livid" Kunis turned it down.
"I was no longer willing to subject myself to a naïve compromise that I had previously been willing to," she penned in an open letter shared on A Plus, a website founded by her husband Ashton Kutcher. "'I will never work in this town again?' I was livid, I felt objectified, and for the first time in my career I said 'no'. And guess what? The world didn't end.
"The film made a lot of money and I did work in this town again, and again, and again. What this producer may never realize is that he spoke aloud the exact fear every woman feels when confronted with gender bias in the workplace."
The 33-year-old went on to recollect how, encouraged by her frustrations in the industry, she "formed a production company with three amazing women" in the combating such attitudes. But even then she encountered ignorance where her talents were ignored and she was simply described as a woman who was "soon to be Ashton's wife and [a] baby momma!!!"
"Throughout my career there have been moments when I have been insulted, sidelined, paid less, creatively ignored and otherwise diminished based on my gender," she continued. "I taught myself that to succeed as a woman in this industry I had to play by the rules of the boys' club.
"But the older I got and the longer I worked in this industry, the more I realised that it's bulls**t! And, worse, that I was complicit in allowing it to happen."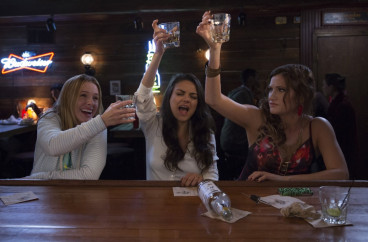 Kunis concluded by stating that she was "done compromising" and from now on, will try to stand up against sexist remarks and situations that she's faced with.
"When I am confronted with one of these comments, subtle or overt, I will address them head on; I will stop in the moment and do my best to educate," she wrote.
"I cannot guarantee that my objections will be taken to heart, but at least now I am part of creating an environment where there is the opportunity for growth.
"And if my comments fall on deaf ears, I will choose to walk away. I will work in this town again, but I will not work with you."
For more entertainment news follow A-List on Twitter @Alistinsider