More than 40% of Tech City companies say a shortage of skilled workers is the biggest challenge they face, with three quarters blaming the employee shortfall for restricting growth.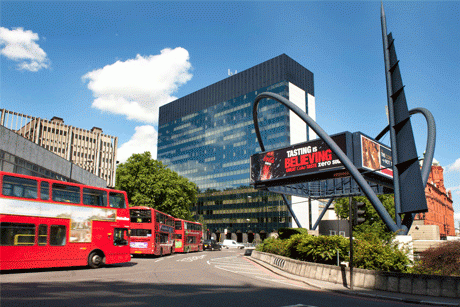 Research firm GFK interviewed 141 founders, chief executives, managing directors and chief operating officers of Tech City-based companies during March and April this year and also found a third believed a lack of access to capital is hindering their businesses.
Others have criticised the Government's involvement in east London's Tech City, claiming an emphasis on building public relations as opposed to helping develop the area's infrastructure.
The report claims: "There are mixed feelings about the effectiveness of Government support. While some initiatives have gained widespread support, others have been criticised for an emphasis on what some perceive as PR as opposed to helping develop Tech City's infrastructure."
GFK found that the majority of Tech City businesses have vacancies they can't fill, and the most in-demand jobs are: coders and developers, marketing and PR, business development, web designers, and user experience specialists.
Staff retention is also a challenge in Tech City. While firms have recruited six new employees on average over the past year, future growth is hindered because much of these were to replace lost talent rather than create new jobs; 42% of businesses interviewed find it "somewhat difficult" or "very difficult" to retain their best talent.
To plug the skills gap, 94% said they hire temporary staff, including freelancers and interns, but just 17% said they prefer to do so.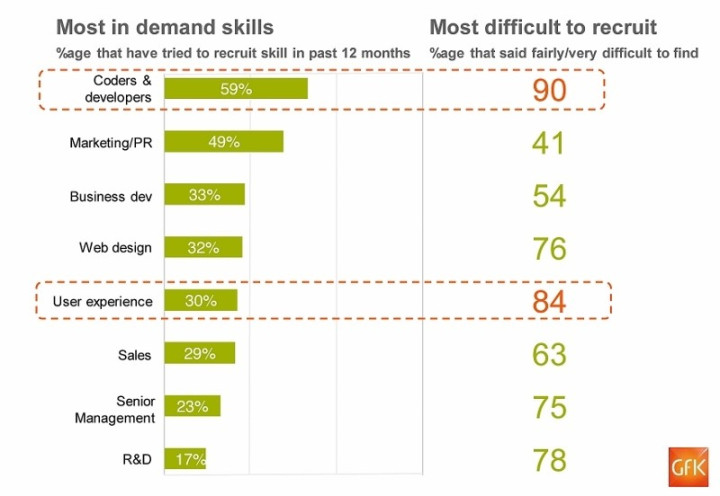 Tipping point
"Our research shows Tech City is at a tipping point, and hopefully this report will help it find its way in spearheading that economic growth," said GFK research director Ryan Garner.
"This report highlights the ecosystem of entrepreneurship and how vitally important it is to have all the elements in place. It's about business leaders with vision and skilled employees to create and bring products and services to market, and investors willing to take risks."
Of the Tech City firms interviewed, 33% said lack of access to capital was a problem and a further 29% say as a consequence their company is missing significant business opportunities to expand.
Garner's criticism of investors not taking risks echoes comments made by venture capitalist Edmund Truell, who said the UK's "pathetic attitude" to risk is keeping UK startups behind Silicon Valley.
Speaking last month at the Level 39 startup accelerator in Canary Wharf, Truell said investors must inject "serious money, not just half a million and hope it'll go OK...On average in the US they put in 5.5 times more per deal than they do here in the UK. That extra money goes to accelerate the growth of the company."
Rapid expansion
Steve Leith, head of the Tech City-based technology team at tax advisory firm Grant Thornton, said: "Many of the startups around Tech City may be early stage, but they are tackling complex funding requirements to fuel rapid expansion.
"Whilst there is an increasing flow of angel capital, we see a growing gap for businesses requiring investment of £500,000 to £2m. This is in stark contrast to the development of the funding community in the US where the cycle of tech entrepreneurs reinvesting in startups is fully developed and the VC community has a greater appetite for risk."
Leith says Government supported initiatives like MMC London Fund and GrowthAccelerator will prove part of the solution, but more will be needed to fulfill Tech City's potential and "avoid a loss of talent and investment opportunities to the Silicon Valley dollar."
The research found some Tech City tenants consider Government involvement and the hype it creates as a negative, pushing up rent prices and salaries, and attracting global firms who have "poached the best talent."
Julian Blake, editor of TechCityInsider.net said: "The key message in the report is that there aren't enough skilled developers out there to meet demand...We're also hearing very mixed messages about the role of Government.
"While many applaud the Tech City initiative for promoting the area and attracting big US corporates like Google, others are sceptical, believing that the Government is trying to take the credit for an economic success story that was happening anyway."
In a statement emailed to IBTimes UK, Benjamin Southworth, deputy CEO of Tech City, said: "It's important to note that the findings from this report are only part of the picture. There is plenty to celebrate; we have a diverse, thriving ecosystem made up of start-ups, small companies, academic organisations, investors and large corporates. Promoting East London and the achievements of the community is vital in establishing the capital as Europe's digital centre and in attracting talent and investment."