Facebook founder and CEO Mark Zuckerberg's candid presentation at the TechCrunch Disrupt conference sparked a much-needed boost to the company's failing stock prices yesterday, with shares jumping 3.4 percent to $20.09 (£12.40) during after-hours trading.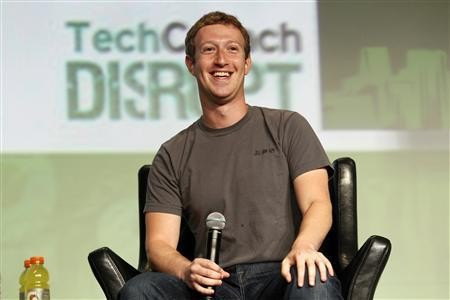 The increase comes after Facebook stock has dropped to almost half of its $38 IPO, since the company went public in May.
Speaking to TechCrunch founder Michael Arrington, Zuckerberg - who became the world's youngest billionaire after launching Facebook from his Harvard University dormitory - spoke openly about the challenges the social network site is facing in the smartphone market, and how mistakes have been made in the past:
"The performance of the stock has obviously been disappointing...we built this internal framework that we called Faceweb, which was basically this idea that we could take the infrastructure that we'd built out for pushing code every day... It took us six to eight months to build Faceweb and get that approach going; another four months to realise that it wasn't going to do it after we'd committed to doing that; and then we had to start over and start rewriting everything to be native...there's no doubt that we've had a bunch of missteps on this."
Facebook's stock has suffered over concerns about the company's future, and whether it can continue to generate advertising revenue as more people access social networking via smartphone apps, as opposed to desktop PCs. But Zuckerberg was eager to explain how Facebook is adapting to mobile users:
"Over the next three to five years, the biggest question on everyone's minds is really how well we do with mobile...Six months ago on mobile, we hadn't launched our new set of apps, Apple hadn't announced the iOS integration: Literally six months ago we didn't run a single ad on mobile.
"I think it's easy for a lot of folks to really underestimate how good mobile is for us. Firstly there are more users. Second, a person who's using Facebook on mobile is more engaged and is spending more time on it. The third is that - per the amount of time people spend on mobile - we think we're going to make a lot more money than we do on desktop."
Assurances
But despite assurances that Facebook would successfully adapt to smartphone users, Mr. Zuckerberg dismissed speculation that the company was working on a smartphone of its own:
"Let's say we build a phone...we could maybe get 10 to 20 million people to use it...It doesn't move the needle for us...The iOS [app] is in good shape I think and the Android one will hopefully be soon, too.
"So that brings us to where we are now: We burnt two years, it's been really painful...I think probably we will look back saying that that is one of the biggest mistakes, if not the biggest strategic mistake that we've made, but we're coming out of that now...The strategy we have is different from every other tech company - we're going in the opposite direction."
Facebook's stock opened this morning at $19.43