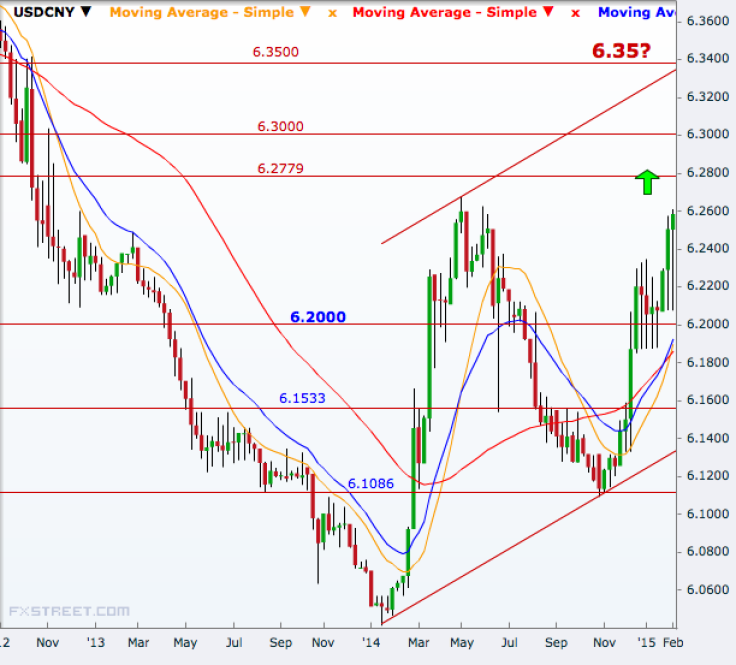 The Chinese yuan that turned southward in November has fallen more than 2.3% against the dollar since then and charts suggest further downside for the renminbi in the coming weeks.
Starting November, the pair has ended all the months higher reversing the six-month streak of downsides ended in October. So far in the new year, the renminbi has weakened 0.93%.
The USD/CNY pair is now testing a crucial resistance but the likelihood of breaking that is high, given the upward channel since January last year.
The pair is trading near 6.2600, just 70 pips below the 2014 high, which is the nearest resistance now. A break of that will shift focus to the upward channel which has an upside barrier near 6.35 as of now.
On the way up, 6.2779 and 6.3000 could offer some resistance.
On the weekly chart, the 14-period moving average has broken above the 50-period average, triggering a clear buy signal. At the same time, the 50-period moving average on the monthly chart rests near the current level, indicating how tough such a break will be.
Upside chances will not weaken as long as the pair holds above 6.20, a support level being held since mid-December on a weekly closing basis.
In case of a break of the 6.20 support, the pair will first aim 6.1533 and then 6.1086 ahead of a retest of the record low of 6.0400 touched in January last year. However, chances are very low in that direction and the 6.10 level seems a very strong support.
With China more keen to absorb the downward correction in the economy rather than taking boosting measures at every minor dip in the growth rate and the US set to raise rates sooner rather than later, the yuan is bound to weaken on fundamental grounds as well.