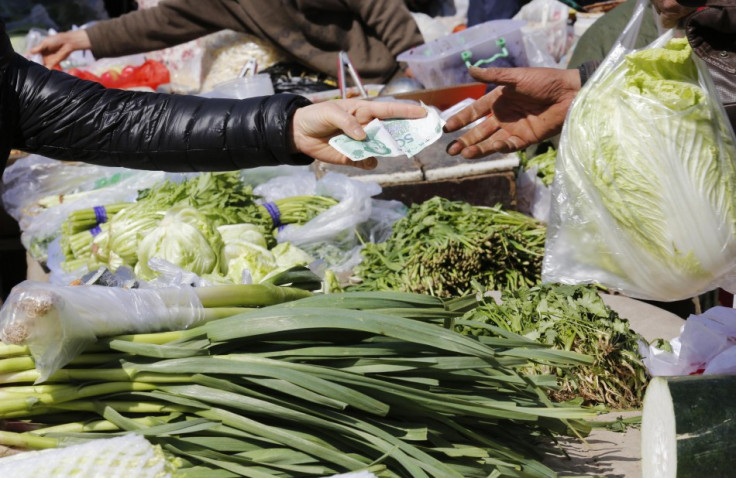 China's year-on-year consumer price inflation (CPI) rate fell to a five-year low increasing deflation risks, but also boosting expectations that the world's second largest economy will further ease rates to shore up demand in the real economy.
The CPI rate came in at 1.4% from a year earlier in November, its lowest since late 2009, while the monthly rate dropped to the negative zone for the fourth time this year and hitting an 8-month low of -0.2%.
Analysts were expecting the October readings of 1.6% and 0% respectively to repeat in November.
Another release showed that producer price deflation in China worsened to -2.7%, its lowest reading since mid-2013, when the market consensus was a moderate drop to -2.4% from October's -2.2%.
Analysts view the moderation in China's consumer and producer prices as a reflection of tepid domestic demand.
The People's Bank of China (PBoC), China's central bank, had surprised with a rate cut last month and Wednesday's numbers are prompting market players to position for further stimulus measures from there.
Meanwhile, the Australian dollar declined to a fresh 4-1/2-year low of 0.8224 against the greenback on Tuesday but rebound to 0.8328 on Wednesday.
Australia data on Wednesday morning were mixed. Growth of investment lending for homes fell to 1.0% in October from 3.7% in the previous month. At the same time, home loans growth rose to 0.3% rebounding from -0.4% in the previous month when the consensus was for 0%.
The Chinese yuan too gained a few points on Wednesday. From a 4-month low of 6.1860, where it closed on Tuesday, the yuan has moved to 6.1777 against the dollar after the inflation numbers were released.