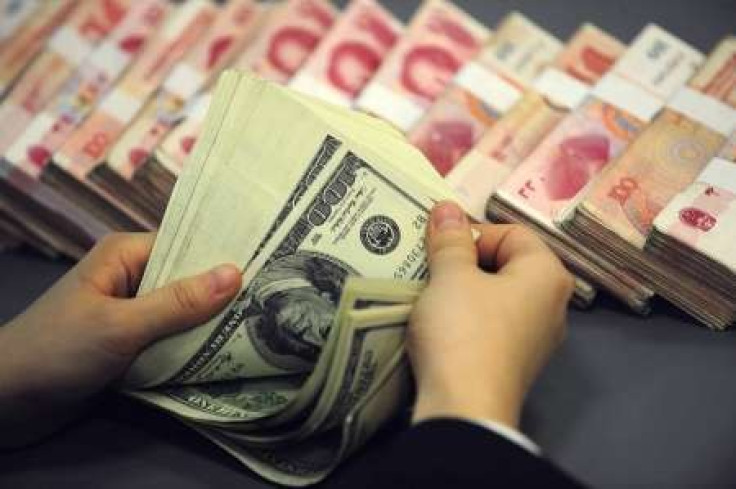 Asian currencies traded mixed on Thursday even as most share indices in the region rallied on the overnight Fed statement that revealed its concerns about downside risks to inflation in the wake of the oil price slide.
The Chinese yuan fell nearly 0.4% against the dollar, and is headed for its fourth straight week of losses as data showed prices of newly built houses decline for the second straight month in October, continuing the trend started in January.
The yuan hit a 6-month low continuing the slide from the 8-month high it touched on 31 October, from where it is now 1.7% weaker.
The Nikkei 225 index led the region's rally with a 2.3% rise followed by India's BSE Sensex with a 1.1% rise and over 0.90% gain by Australia's S&P ASX 200 and Hang Seng. The Shanghai index was down marginally.
China's house price index fell 2.6% from a year earlier, worse than the 1.3% slide in September. The growth rate has been falling to new lows every month starting January, when it saw a drop to 9.6% from 9.9% in the previous month.
The index fell below zero in September and at the October low, it was the lowest since data started recording in 2011.
The Federal Reserve's concerns about oil price slide for its impact on inflation helped increase risk appetite in the US on Wednesday while the central bank's confidence about growth in the world's largest economy helped the dollar remain supported.
Gains in the dollar was not enough to trigger a broad-based selloff in Asian currencies as many of them, like the Indian, Indonesian and Malaysian units, benefited from the better inflow outlook to their capital markets aided by the soft rate stance of the Fed.
The fact that those currencies have already fallen sharply over the past few days also helped them in the form of value buying, boosted by renewed risk appetite.
USD/INR slipped to 63.19 on Thursday from the previous close of 63.52, making a 0.5% rally in the rupee. The Indian currency had fallen more than 3% over the past eight days and hit a multi-month low of 63.88.
The South Korean won was down 0.7%, the Singapore dollar 0.37% and the Pakistani rupee was more than 1% weaker on Thursday, weighed down by the broad strength of the greenback which was trading 1.86% higher against the euro from where the pair was before the Fed statement.